TERRA TRAC® T/G MAX
Premium Commercial Traction | All-Season
The Hercules Terra Trac T/G Max – The Worksite Workhorse. When conditions call for extra muscle, the Terra Trac T/G Max is there to answer. This powerhouse combines rugged durability with outstanding performance to create a purpose-built commercial traction tire that stands up to the most punishing environments while providing all-road capability for every season. The durable Terra Trac T/G Max is designed to endure, resisting cuts, chips, abrasions, and stone drilling, while its deep tread maximizes torque, so every commercial vehicle can meet its full potential.
Features & Benefits
Robust, silica-based compound and optimized void-to-rubber ratio provide exceptional cut and chip resistance.
Aggressive upper shoulder design offers superior abrasion resistance.
Stone ejector ribs help prevent stone drilling.
Deep 18.5/32" tread ensures dependable traction and grip, helping vehicles deliver maximum torque.

Deep Tread
Tread depth with optimized void-to-rubber ratio creates traction that heightens torque for maximum performance in worksite vehicles.

Commercial Traction
Profile design optimizes surface contact with the road for maximum traction and tread life.
Cut and Chip Resistance
Equipped with advanced cut-and-chip resistance, while providing increased wet and wear capabilities for on-road driving.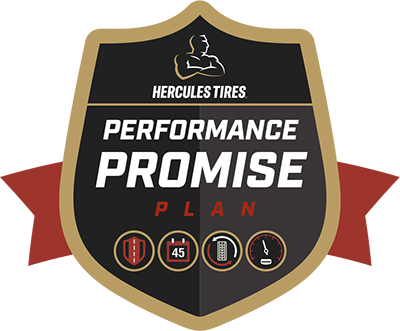 Performance Promise Warranty
ROAD HAZARD
Covered by our industry-leading Road Hazard Protection Program, which provides free replacement for up to two years or the first 50% of tread life.
TRUST OUR RIDE TEST DRIVE
If you are not completely satisfied with these tires, you may return them within 45 days to exchange them for a comparable set of Hercules brand tires.
WORKMANSHIP & MATERIALS
If this tire becomes unserviceable due to a flaw in workmanship or materials, we will replace it at no charge during the first 50% of tread life.
| ITEM # | TIRE SIZE | LOAD INDEX | SPEED RATING | LOAD ID | SIDEWALL | UTQG | MIN RIM WIDTH (IN) | MAX RIM WIDTH (IN) | SINGLE MAX LOAD AT COLD INFLATION PRESSURE (LBS@PSI) | DUAL MAX LOAD AT COLD INFLATION PRESSURE (LBS@PSI) | TREAD DEPTH (1/32") | OVERALL WIDTH (IN) | OVERALL DIAMETER (IN) | WEIGHT (LBS) | STUD SIZE | PLY RATING |
| --- | --- | --- | --- | --- | --- | --- | --- | --- | --- | --- | --- | --- | --- | --- | --- | --- |
| 09070 | 31X10.50R15LT/6 | 109 | Q | C | OWL | | 7.000000 | 9.000000 | 2270@50 | N/A | 18.5 | 10.90 | 30.75 | 44.44 | - | - |
| 09080 | 33X12.50R15LT/6 | 108 | Q | C | OWL | | 8.500000 | 11.000000 | 2205@35 | N/A | 18.5 | 12.10 | 32.91 | 55.09 | - | - |
| ITEM # | TIRE SIZE | LOAD INDEX | SPEED RATING | LOAD ID | SIDEWALL | UTQG | MIN RIM WIDTH (IN) | MAX RIM WIDTH (IN) | SINGLE MAX LOAD AT COLD INFLATION PRESSURE (LBS@PSI) | DUAL MAX LOAD AT COLD INFLATION PRESSURE (LBS@PSI) | TREAD DEPTH (1/32") | OVERALL WIDTH (IN) | OVERALL DIAMETER (IN) | WEIGHT (LBS) | STUD SIZE | PLY RATING |
| --- | --- | --- | --- | --- | --- | --- | --- | --- | --- | --- | --- | --- | --- | --- | --- | --- |
| 09100 | LT235/85R16/10 | 120/116 | Q | E | BW | | 6.000000 | 7.500000 | 3042@80 | 2778@80 | 18.5 | 9.70 | 31.97 | 54.56 | - | - |
| 09120 | LT245/75R16/10 | 120/116 | Q | E | BW | | 6.500000 | 8.000000 | 3042@80 | 2778@80 | 18.5 | 9.40 | 30.79 | 45.32 | - | - |
| 09020 | LT265/75R16/10 | 123/120 | Q | E | OWL | | 7.000000 | 8.000000 | 3415@80 | 3085@80 | 18.5 | 10.10 | 31.89 | 49.72 | - | - |
| 09040.1 | LT285/75R16/10 | 126/123 | Q | E | OWL | | 7.500000 | 9.000000 | 3750@80 | 3415@80 | 18.5 | 11.30 | 32.99 | 56.54 | - | - |
| ITEM # | TIRE SIZE | LOAD INDEX | SPEED RATING | LOAD ID | SIDEWALL | UTQG | MIN RIM WIDTH (IN) | MAX RIM WIDTH (IN) | SINGLE MAX LOAD AT COLD INFLATION PRESSURE (LBS@PSI) | DUAL MAX LOAD AT COLD INFLATION PRESSURE (LBS@PSI) | TREAD DEPTH (1/32") | OVERALL WIDTH (IN) | OVERALL DIAMETER (IN) | WEIGHT (LBS) | STUD SIZE | PLY RATING |
| --- | --- | --- | --- | --- | --- | --- | --- | --- | --- | --- | --- | --- | --- | --- | --- | --- |
| 09110 | LT235/80R17/10 | 120/117 | Q | E | BW | | 6.000000 | 7.500000 | 3085@80 | 2835@80 | 18.5 | 9.40 | 31.97 | 44.22 | - | - |
| 09090 | LT245/70R17/10 | 119/116 | Q | E | BW | | 6.500000 | 8.000000 | 3000@80 | 2755@80 | 18.5 | 9.60 | 30.98 | 49.06 | - | - |
| 09060 | LT245/75R17/10 | 121/118 | Q | E | OWL | | 6.500000 | 7.500000 | 3195@80 | 2910@80 | 18.5 | 9.60 | 31.85 | 47.52 | - | - |
| 09160 | LT265/65R17/10 | 120/117 | Q | E | OWL | | 7.500000 | 9.500000 | 3085@80 | N/A | 18.5 | 10.70 | 30.50 | 46.60 | - | - |
| 09030 | LT265/70R17/10 | 121/118 | Q | E | OWL | | 7.000000 | 8.500000 | 3195@80 | 2910@80 | 18.5 | 10.80 | 31.89 | 51.92 | - | - |
| 09010 | LT285/70R17/10 | 121/118 | Q | E | OWL | | 7.500000 | 9.000000 | 3195@80 | 2910@80 | 18.5 | 11.50 | 33.07 | 56.06 | - | - |
| 09062 | LT285/75R17/10 | 121/118 | Q | E | BW | | 7.500000 | 9.500000 | 3195@80 | 2910@80 | 18.5 | 11.50 | 34.13 | 57.20 | - | - |
| 09050.1 | LT315/70R17/8 | 121/118 | Q | D | OWL | | 8.000000 | 11.000000 | 3195@50 | 2910@50 | 18.5 | 12.80 | 34.61 | 62.48 | - | - |
| ITEM # | TIRE SIZE | LOAD INDEX | SPEED RATING | LOAD ID | SIDEWALL | UTQG | MIN RIM WIDTH (IN) | MAX RIM WIDTH (IN) | SINGLE MAX LOAD AT COLD INFLATION PRESSURE (LBS@PSI) | DUAL MAX LOAD AT COLD INFLATION PRESSURE (LBS@PSI) | TREAD DEPTH (1/32") | OVERALL WIDTH (IN) | OVERALL DIAMETER (IN) | WEIGHT (LBS) | STUD SIZE | PLY RATING |
| --- | --- | --- | --- | --- | --- | --- | --- | --- | --- | --- | --- | --- | --- | --- | --- | --- |
| 09075 | LT275/65R18/10 | 123/120 | Q | E | OWL | | 7.500000 | 9.500000 | 3415@80 | 3085@80 | 18.5 | 11.00 | 32.32 | 53.24 | - | - |
| 09150 | LT275/70R18/10 | 125/122 | Q | E | OWL | | 7.000000 | 8.500000 | 3640@80 | 3305@80 | 18.5 | 11.00 | 33.43 | 54.78 | - | - |
| 09015 | LT285/65R18/10 | 125/122 | Q | E | OWL | | 8.000000 | 10.000000 | 3640@80 | 3305@80 | 18.5 | 11.50 | 33.03 | 57.64 | - | - |
| 09012 | LT295/70R18/10 | 129/126 | Q | E | BW | | 7.500000 | 10.000000 | 4080@80 | 3750@80 | 18.5 | 12.00 | 34.41 | 62.59 | - | - |
| 09140.1 | LT305/70R18/10 | 126/123 | Q | E | OWL | | 8.500000 | 10.000000 | 3750@65 | 3415@65 | 18.5 | 12.50 | 35.08 | 64.90 | - | - |
| ITEM # | TIRE SIZE | LOAD INDEX | SPEED RATING | LOAD ID | SIDEWALL | UTQG | MIN RIM WIDTH (IN) | MAX RIM WIDTH (IN) | SINGLE MAX LOAD AT COLD INFLATION PRESSURE (LBS@PSI) | DUAL MAX LOAD AT COLD INFLATION PRESSURE (LBS@PSI) | TREAD DEPTH (1/32") | OVERALL WIDTH (IN) | OVERALL DIAMETER (IN) | WEIGHT (LBS) | STUD SIZE | PLY RATING |
| --- | --- | --- | --- | --- | --- | --- | --- | --- | --- | --- | --- | --- | --- | --- | --- | --- |
| 09001 | 35X12.50R20/12 | 125 | Q | F | BW | | 8.500000 | 11.000000 | 3640@80 | N/A | 18.5 | 12.50 | 34.76 | 65.56 | - | - |
| 09022 | 37X12.50R20 | 126 | Q | E | BW | | 8.500000 | 11.000000 | 3750@65 | N/A | 18.5 | 12.40 | 36.54 | 70.64 | - | - |
| 09032 | LT265/60R20/10 | 121/118 | Q | E | BW | | 8.000000 | 9.500000 | 3195@80 | 2910@80 | 18.5 | 10.60 | 32.91 | 50.95 | - | - |
| 09042 | LT275/55R20/10 | 120/117 | Q | E | BW | | 8.000000 | 9.500000 | 3085@80 | 2835@80 | 18.5 | 10.80 | 32.32 | 54.71 | - | - |
| 09035 | LT275/65R20/10 | 126/123 | Q | E | BW | | 7.500000 | 9.500000 | 3750@80 | 3415@80 | 18.5 | 11.50 | 34.65 | 60.72 | - | - |
| 09081 | LT285/55R20/10 | 122/119 | Q | E | BW | | 8.000000 | 10.000000 | 3305@80 | 3000@80 | 18.5 | 11.70 | 32.60 | 53.24 | - | - |
| 09052 | LT285/60R20/10 | 125/122 | Q | E | BW | | 8.500000 | 10.000000 | 3640@80 | 3305@80 | 18.5 | 11.40 | 33.90 | 59.84 | - | - |
| 09005 | LT305/55R20/12 | 125/122 | Q | F | BW | | 8.500000 | 11.000000 | 3640@80 | 3305@80 | 18.5 | 12.50 | 33.43 | 62.92 | - | - |