TERRA TRAC® CROSS-V
Premium SUV-LT/CUV | All-Season
The Hercules Terra Trac Cross-V – All-Around Performance. One-Of-A-Kind Tire. With premium construction and serious all-road capability, the Hercules Terra Trac Cross-V delivers "do-it-all" versatility and performance—wherever the road may lead. The Terra Trac Cross-V was engineered for highly responsive handling on any surface, in any season, citywide to countryside. Truly revolutionary in its class, the Cross-V offers a unique mix of wear resistance, all-weather traction and low rolling resistance rarely found in a tire of its kind.
Features & Benefits
Open shoulder design and a unique water guard help maintain contact with the road surface for all-weather, all-road traction.
Reinforced shoulder blocks and tie bars promote stability and create secure handling.
Sophisticated tread pattern creates exceptional stability and excellent feedback.
Advanced silica compound ensures superior handling in wet conditions.

All-Season Performance
With sipes that provide gripping edges to enhance wet traction, maximize performance on snow and ice and minimize irregular wear.

Traction and Braking Efficiency
Lateral zig-zag design boosts traction, heightens braking efficacy and aids in even wear.

Responsive Handling
Tread design provides exceptional grip in wet conditions, promotes wear resistance and produces lower rolling resistance.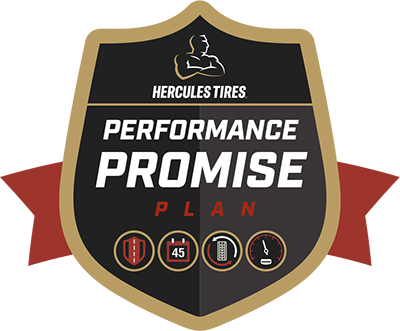 Performance Promise Warranty
70K MILES
Built to deliver 70,000 mi/112,000 km and protected under our Hercules Mileage Coverage Plan.
ROAD HAZARD
Covered by our industry-leading Road Hazard Protection Program, which provides free replacement for up to two years or the first 50% of tread life.
TRUST OUR RIDE TEST DRIVE
If you are not completely satisfied with these tires, you may return them within 45 days to exchange them for a comparable set of Hercules brand tires.
WORKMANSHIP & MATERIALS
If this tire becomes unserviceable due to a flaw in workmanship or materials, we will replace it at no charge during the first 50% of tread life.
| ITEM # | TIRE SIZE | LOAD INDEX | SPEED RATING | LOAD ID | SIDEWALL | UTQG | MIN RIM WIDTH (IN) | MAX RIM WIDTH (IN) | SINGLE MAX LOAD AT COLD INFLATION PRESSURE (LBS@PSI) | DUAL MAX LOAD AT COLD INFLATION PRESSURE (LBS@PSI) | TREAD DEPTH (1/32") | OVERALL WIDTH (IN) | OVERALL DIAMETER (IN) | WEIGHT (LBS) | STUD SIZE | PLY RATING |
| --- | --- | --- | --- | --- | --- | --- | --- | --- | --- | --- | --- | --- | --- | --- | --- | --- |
| 88332 | 235/70R16 | 106 | T | SL | BW | 600 A A | 6.000000 | 8.000000 | 2094@51 | N/A | 12.5 | 9.45 | 28.96 | 31.30 | - | - |
| 88333 | 245/70R16 | 107 | T | SL | BW | 600 A A | 6.500000 | 8.000000 | 2149@51 | N/A | 12.5 | 9.76 | 29.52 | 32.70 | - | - |
| 88331 | 245/75R16 | 111 | T | SL | BW | 600 A A | 6.500000 | 8.000000 | 2403@51 | N/A | 12.5 | 9.76 | 30.50 | 34.40 | - | - |
| 88334 | 255/70R16 | 111 | T | SL | BW | 600 A A | 6.500000 | 8.500000 | 2403@51 | N/A | 12.5 | 10.24 | 30.06 | 34.80 | - | - |
| 88335 | 265/70R16 | 112 | T | SL | BW | 600 A A | 7.000000 | 9.000000 | 2469@51 | N/A | 12.5 | 10.71 | 30.60 | 36.60 | - | - |
| 88355 | LT215/85R16/10 | 115/112 | Q | E | BW | | 5.500000 | 7.000000 | 2680@80 | 2470@80 | 14.1 | 8.50 | 30.38 | 36.39 | - | - |
| 88356 | LT225/75R16/10 | 115/112 | R | E | BW | | 6.000000 | 7.000000 | 2680@80 | 2470@80 | 14.1 | 8.78 | 29.30 | 35.94 | - | - |
| 88358.1 | LT235/85R16/10 | 120/116 | Q | E | BW | | 6.000000 | 7.500000 | 3042@80 | 2778@80 | 14.1 | 9.25 | 31.72 | 41.01 | - | - |
| 88359 | LT245/75R16/10 | 120/116 | R | E | BW | | 6.500000 | 8.000000 | 3042@80 | 2778@80 | 14.1 | 9.76 | 30.48 | 40.79 | - | - |
| 88362 | LT265/75R16/10 | 123/120 | Q | E | BW | | 7.000000 | 8.000000 | 3415@80 | 3085@80 | 14.1 | 10.51 | 31.64 | 47.90 | - | - |
| ITEM # | TIRE SIZE | LOAD INDEX | SPEED RATING | LOAD ID | SIDEWALL | UTQG | MIN RIM WIDTH (IN) | MAX RIM WIDTH (IN) | SINGLE MAX LOAD AT COLD INFLATION PRESSURE (LBS@PSI) | DUAL MAX LOAD AT COLD INFLATION PRESSURE (LBS@PSI) | TREAD DEPTH (1/32") | OVERALL WIDTH (IN) | OVERALL DIAMETER (IN) | WEIGHT (LBS) | STUD SIZE | PLY RATING |
| --- | --- | --- | --- | --- | --- | --- | --- | --- | --- | --- | --- | --- | --- | --- | --- | --- |
| 88339 | 225/65R17 | 102 | H | SL | BW | 600 A A | 6.000000 | 8.000000 | 1874@51 | N/A | 12.5 | 8.98 | 28.52 | 28.40 | - | - |
| 88340 | 235/65R17 | 104 | H | SL | BW | 600 A A | 6.500000 | 8.500000 | 1984@51 | N/A | 12.5 | 9.45 | 29.02 | 31.12 | - | - |
| 88336.1 | 235/70R17XL | 111 | T | XL | BW | 600 A A | 6.000000 | 8.000000 | 2403@50 | N/A | 12.5 | 9.45 | 29.96 | 33.10 | - | - |
| 88341 | 245/65R17 | 107 | T | SL | BW | 600 A A | 7.000000 | 8.500000 | 2149@51 | N/A | 12.5 | 9.76 | 29.54 | 32.41 | - | - |
| 88337 | 245/70R17 | 110 | T | SL | BW | 600 A A | 6.500000 | 8.000000 | 2337@51 | N/A | 12.5 | 9.76 | 30.52 | 34.60 | - | - |
| 88342.1 | 265/65R17 | 112 | T | SL | BW | 600 A A | 7.500000 | 9.500000 | 2469@51 | N/A | 12.5 | 10.71 | 30.56 | 36.60 | - | - |
| 88338 | 265/70R17 | 115 | T | SL | BW | 600 A A | 7.000000 | 9.000000 | 2679@51 | N/A | 12.5 | 10.71 | 31.60 | 38.80 | - | - |
| 88357.1 | LT235/80R17/10 | 120/117 | R | E | BW | | 6.000000 | 7.500000 | 3085@80 | 2835@80 | 14.1 | 9.25 | 31.80 | 41.67 | - | - |
| 88360 | LT245/75R17/10 | 121/118 | S | E | BW | | 6.500000 | 7.500000 | 3195@80 | 2910@80 | 14.1 | 9.76 | 31.48 | 42.55 | - | - |
| 88361 | LT265/70R17/10 | 121/118 | R | E | BW | | 7.000000 | 8.500000 | 3195@80 | 2910@80 | 14.1 | 10.71 | 31.60 | 45.19 | - | - |
| ITEM # | TIRE SIZE | LOAD INDEX | SPEED RATING | LOAD ID | SIDEWALL | UTQG | MIN RIM WIDTH (IN) | MAX RIM WIDTH (IN) | SINGLE MAX LOAD AT COLD INFLATION PRESSURE (LBS@PSI) | DUAL MAX LOAD AT COLD INFLATION PRESSURE (LBS@PSI) | TREAD DEPTH (1/32") | OVERALL WIDTH (IN) | OVERALL DIAMETER (IN) | WEIGHT (LBS) | STUD SIZE | PLY RATING |
| --- | --- | --- | --- | --- | --- | --- | --- | --- | --- | --- | --- | --- | --- | --- | --- | --- |
| 98063 | 235/55R18 | 100 | V | SL | BW | 600 A A | 6.500000 | 8.500000 | 1764@51 | N/A | 12.0 | 9.57 | 28.07 | 33.80 | - | - |
| 88348 | 235/60R18XL | 107 | H | XL | BW | 600 A A | 6.500000 | 8.500000 | 2150@50 | N/A | 12.5 | 9.40 | 29.10 | 30.42 | - | - |
| 88344 | 235/65R18 | 106 | H | SL | BW | 600 A A | 6.500000 | 8.500000 | 2094@51 | N/A | 12.5 | 9.45 | 30.02 | 31.97 | - | - |
| 88349 | 245/60R18 | 105 | H | SL | BW | 600 A A | 7.000000 | 8.500000 | 2039@51 | N/A | 12.5 | 9.76 | 29.58 | 31.97 | - | - |
| 94648 | 255/55R18XL | 109 | H | XL | BW | 600 A A | 7.000000 | 9.000000 | 2271@50 | N/A | 12.0 | 10.40 | 29.00 | 33.31 | - | - |
| 88345 | 255/65R18 | 111 | T | SL | BW | 600 A A | 7.000000 | 9.000000 | 2403@51 | N/A | 12.5 | 10.24 | 31.06 | 35.36 | - | - |
| 88343 | 255/70R18 | 113 | T | SL | BW | 600 A A | 6.500000 | 8.500000 | 2535@51 | N/A | 12.5 | 10.24 | 32.06 | 38.26 | - | - |
| 94649 | 265/60R18 | 110 | T | SL | BW | 600 A A | 7.500000 | 9.500000 | 2337@51 | N/A | 12.0 | 10.70 | 30.50 | 34.88 | - | - |
| 88346 | 265/65R18 | 114 | T | SL | BW | 600 A A | 7.500000 | 9.500000 | 2601@51 | N/A | 12.5 | 10.71 | 31.56 | 37.48 | - | - |
| 94650 | 265/70R18 | 116 | T | SL | BW | 600 A A | 7.000000 | 9.000000 | 2756@51 | N/A | 12.0 | 10.70 | 32.60 | 38.34 | - | - |
| 88347 | 275/65R18 | 116 | T | SL | BW | 600 A A | 7.500000 | 9.500000 | 2756@51 | N/A | 12.5 | 10.98 | 32.08 | 39.69 | - | - |
| ITEM # | TIRE SIZE | LOAD INDEX | SPEED RATING | LOAD ID | SIDEWALL | UTQG | MIN RIM WIDTH (IN) | MAX RIM WIDTH (IN) | SINGLE MAX LOAD AT COLD INFLATION PRESSURE (LBS@PSI) | DUAL MAX LOAD AT COLD INFLATION PRESSURE (LBS@PSI) | TREAD DEPTH (1/32") | OVERALL WIDTH (IN) | OVERALL DIAMETER (IN) | WEIGHT (LBS) | STUD SIZE | PLY RATING |
| --- | --- | --- | --- | --- | --- | --- | --- | --- | --- | --- | --- | --- | --- | --- | --- | --- |
| 98064 | 225/55R19 | 99 | V | SL | BW | 600 A A | 6.000000 | 8.000000 | 1709@51 | N/A | 12.0 | 9.09 | 28.70 | 32.50 | - | - |
| 98065 | 235/50R19 | 99 | V | SL | BW | 600 A A | 6.500000 | 8.500000 | 1709@51 | N/A | 12.0 | 9.57 | 28.23 | 31.20 | - | - |
| 94651 | 235/55R19XL | 105 | H | XL | BW | 600 A A | 6.500000 | 8.500000 | 2039@50 | N/A | 12.0 | 9.60 | 29.20 | 31.26 | - | - |
| 88351 | 245/55R19 | 103 | T | SL | BW | 600 A A | 7.000000 | 8.500000 | 1929@51 | N/A | 12.0 | 10.00 | 29.62 | 33.05 | - | - |
| 96420 | 255/50R19XL | 107 | V | XL | BW | 600 A A | 7.000000 | 9.000000 | 2149@50 | N/A | 12.0 | 10.33 | 28.96 | 32.37 | - | - |
| 88350.1 | 255/60R19 | 109 | H | SL | BW | 600 A A | 7.000000 | 9.000000 | 2271@51 | N/A | 12.5 | 10.20 | 31.04 | 35.27 | - | - |
| ITEM # | TIRE SIZE | LOAD INDEX | SPEED RATING | LOAD ID | SIDEWALL | UTQG | MIN RIM WIDTH (IN) | MAX RIM WIDTH (IN) | SINGLE MAX LOAD AT COLD INFLATION PRESSURE (LBS@PSI) | DUAL MAX LOAD AT COLD INFLATION PRESSURE (LBS@PSI) | TREAD DEPTH (1/32") | OVERALL WIDTH (IN) | OVERALL DIAMETER (IN) | WEIGHT (LBS) | STUD SIZE | PLY RATING |
| --- | --- | --- | --- | --- | --- | --- | --- | --- | --- | --- | --- | --- | --- | --- | --- | --- |
| 96422.1 | 235/55R20 | 102 | H | SL | BW | 600 A A | 6.500000 | 8.500000 | 1874@51 | N/A | 12.0 | 9.55 | 30.02 | 32.05 | - | - |
| 96419 | 245/50R20 | 102 | H | SL | BW | 600 A A | 7.000000 | 8.500000 | 1874@51 | N/A | 12.0 | 9.86 | 29.55 | 33.29 | - | - |
| 98066 | 245/60R20 | 107 | H | SL | BW | 600 A A | 7.000000 | 8.500000 | 2149@51 | N/A | 13.0 | 9.69 | 31.50 | 40.40 | - | - |
| 96421 | 255/50R20 | 105 | H | SL | BW | 600 A A | 7.000000 | 9.000000 | 2039@51 | N/A | 12.0 | 10.33 | 29.94 | 34.06 | - | - |
| 96423 | 255/55R20 | 107 | H | SL | BW | 600 A A | 7.000000 | 9.000000 | 2149@51 | N/A | 12.0 | 10.33 | 30.89 | 35.99 | - | - |
| 88354.1 | 265/50R20 | 107 | V | SL | BW | 600 A A | 7.500000 | 9.500000 | 2149@51 | N/A | 12.0 | 11.00 | 30.44 | 35.77 | - | - |
| 88353 | 275/55R20XL | 117 | T | XL | BW | 600 A A | 7.500000 | 9.500000 | 2833@50 | N/A | 12.0 | 11.20 | 31.92 | 39.68 | - | - |
| 88352 | 275/60R20 | 115 | T | SL | BW | 600 A A | 7.500000 | 9.500000 | 2679@51 | N/A | 12.5 | 10.98 | 33.00 | 40.79 | - | - |
| ITEM # | TIRE SIZE | LOAD INDEX | SPEED RATING | LOAD ID | SIDEWALL | UTQG | MIN RIM WIDTH (IN) | MAX RIM WIDTH (IN) | SINGLE MAX LOAD AT COLD INFLATION PRESSURE (LBS@PSI) | DUAL MAX LOAD AT COLD INFLATION PRESSURE (LBS@PSI) | TREAD DEPTH (1/32") | OVERALL WIDTH (IN) | OVERALL DIAMETER (IN) | WEIGHT (LBS) | STUD SIZE | PLY RATING |
| --- | --- | --- | --- | --- | --- | --- | --- | --- | --- | --- | --- | --- | --- | --- | --- | --- |
| 96418 | 285/45R22XL | 114 | H | XL | BW | 600 A A | 9.000000 | 10.500000 | 2601@50 | N/A | 11.0 | 11.14 | 31.95 | 38.29 | - | - |