ROADTOUR® 455
Touring Tire | All-Season
The Hercules Roadtour 455 - For Life's Many Roads. Available in 33 sizes and in wheel diameters from 14 to 18 inches, the all-season Roadtour 455 offers a high-quality, affordable solution for a wide range of vehicles. Part of the Roadtour Series of touring tires, the Roadtour 455 builds on the family tradition of driving excellence with a modern design that maximizes traction and handling. The Roadtour 455 is a sound choice for all-season peace-of-mind, delivering efficiency and security that makes it the perfect option for more drivers across a wider array of lifestyles and vehicles.
Features & Benefits
Non-directional tread pattern promotes even wear and longer life.
Strategically placed full depth siping creates a biting grip and greater stability.
Optimized four-pitch sequence reduces road noise for a quieter ride.
Solid center rib delivers crisp handling and driver comfort.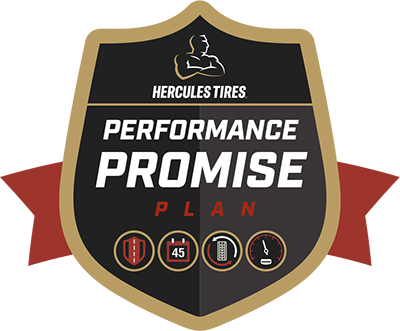 Performance Promise Warranty
50K MILES
Built to deliver 50,000 mi/80,000 km and protected under our Hercules Mileage Coverage Plan.
ROAD HAZARD
Covered by our industry-leading Road Hazard Protection Program, which provides free replacement for up to two years or the first 50% of tread life.
TRUST OUR RIDE TEST DRIVE
If you are not completely satisfied with these tires, you may return them within 45 days to exchange them for a comparable set of Hercules brand tires.
WORKMANSHIP & MATERIALS
If this tire becomes unserviceable due to a flaw in workmanship or materials, we will replace it at no charge during the first 50% of tread life.
| ITEM # | TIRE SIZE | LOAD INDEX | SPEED RATING | LOAD ID | SIDEWALL | UTQG | MIN RIM WIDTH (IN) | MAX RIM WIDTH (IN) | SINGLE MAX LOAD AT COLD INFLATION PRESSURE (LBS@PSI) | DUAL MAX LOAD AT COLD INFLATION PRESSURE (LBS@PSI) | TREAD DEPTH (1/32") | OVERALL WIDTH (IN) | OVERALL DIAMETER (IN) | WEIGHT (LBS) | STUD SIZE | PLY RATING |
| --- | --- | --- | --- | --- | --- | --- | --- | --- | --- | --- | --- | --- | --- | --- | --- | --- |
| 05035 | 185/65R14 | 86 | H | SL | BW | 520 A A | 5.000000 | 6.500000 | 1168@44 | - | 9.0 | 7.40 | 23.46 | 14.87 | - | - |
| 05075 | 185/70R14 | 88 | T | SL | BW | 520 A B | 4.500000 | 6.000000 | 1235@44 | - | 9.0 | 7.40 | 24.21 | 16.94 | - | - |
| 05080 | 195/70R14 | 91 | T | SL | BW | 520 A B | 5.000000 | 6.500000 | 1356@44 | - | 9.0 | 7.80 | 24.76 | 17.95 | - | - |
| 05010 | 205/75R14 | 95 | T | SL | BW | 520 A B | 5.000000 | 7.000000 | 1521@44 | - | 9.0 | 8.00 | 25.94 | 17.96 | - | - |
| ITEM # | TIRE SIZE | LOAD INDEX | SPEED RATING | LOAD ID | SIDEWALL | UTQG | MIN RIM WIDTH (IN) | MAX RIM WIDTH (IN) | SINGLE MAX LOAD AT COLD INFLATION PRESSURE (LBS@PSI) | DUAL MAX LOAD AT COLD INFLATION PRESSURE (LBS@PSI) | TREAD DEPTH (1/32") | OVERALL WIDTH (IN) | OVERALL DIAMETER (IN) | WEIGHT (LBS) | STUD SIZE | PLY RATING |
| --- | --- | --- | --- | --- | --- | --- | --- | --- | --- | --- | --- | --- | --- | --- | --- | --- |
| 05030 | 185/60R15 | 84 | H | SL | BW | 520 A A | 5.000000 | 6.500000 | 1102@44 | - | 9.0 | 7.40 | 23.74 | 16.63 | - | - |
| 05040 | 185/65R15 | 88 | H | SL | BW | 520 A A | 5.000000 | 6.500000 | 1235@44 | - | 9.0 | 7.40 | 24.45 | 16.86 | - | - |
| 05045 | 195/60R15 | 88 | H | SL | BW | 520 A A | 5.500000 | 7.000000 | 1235@44 | - | 9.0 | 7.90 | 24.21 | 17.96 | - | - |
| 05050 | 195/65R15 | 91 | H | SL | BW | 520 A A | 5.500000 | 7.000000 | 1356@44 | - | 9.0 | 7.90 | 25.00 | 18.74 | - | - |
| 05060 | 205/60R15 | 91 | H | SL | BW | 520 A A | 5.500000 | 7.500000 | 1356@44 | - | 9.0 | 8.20 | 24.69 | 19.06 | - | - |
| 05175 | 205/65R15 | 94 | H | SL | BW | 520 A A | 5.500000 | 7.500000 | 1477@44 | - | 9.0 | 8.20 | 25.47 | 20.81 | - | - |
| 05090 | 205/70R15 | 96 | T | SL | BW | 520 A B | 5.000000 | 7.000000 | 1565@44 | - | 9.0 | 8.10 | 26.18 | 20.42 | - | - |
| 05015 | 205/75R15 | 97 | T | SL | BW | 520 A B | 5.000000 | 7.000000 | 1609@44 | - | 9.0 | 8.00 | 27.01 | 18.44 | - | - |
| 05065 | 215/60R15 | 94 | H | SL | BW | 520 A A | 6.000000 | 7.500000 | 1477@44 | - | 9.0 | 8.70 | 25.16 | 22.95 | - | - |
| 05140 | 215/70R15 | 98 | T | SL | BW | 520 A B | 5.500000 | 7.000000 | 1653@44 | - | 9.0 | 8.60 | 26.89 | 21.87 | - | - |
| 05020 | 215/75R15 | 100 | T | SL | BW | 520 A B | 5.500000 | 7.000000 | 1764@44 | - | 9.0 | 8.50 | 27.56 | 20.96 | - | - |
| 05025 | 235/75R15 | 105 | T | SL | BW | 520 A B | 6.000000 | 8.000000 | 2039@44 | - | 9.0 | 9.10 | 28.62 | 22.85 | - | - |
| ITEM # | TIRE SIZE | LOAD INDEX | SPEED RATING | LOAD ID | SIDEWALL | UTQG | MIN RIM WIDTH (IN) | MAX RIM WIDTH (IN) | SINGLE MAX LOAD AT COLD INFLATION PRESSURE (LBS@PSI) | DUAL MAX LOAD AT COLD INFLATION PRESSURE (LBS@PSI) | TREAD DEPTH (1/32") | OVERALL WIDTH (IN) | OVERALL DIAMETER (IN) | WEIGHT (LBS) | STUD SIZE | PLY RATING |
| --- | --- | --- | --- | --- | --- | --- | --- | --- | --- | --- | --- | --- | --- | --- | --- | --- |
| 05055 | 205/55R16 | 91 | H | SL | BW | 520 A A | 5.500000 | 7.500000 | 1356@44 | - | 9.0 | 8.40 | 24.88 | 19.96 | - | - |
| 05085 | 205/60R16 | 92 | T | SL | BW | 520 A B | 5.500000 | 7.500000 | 1389@44 | - | 9.0 | 8.20 | 25.67 | 20.20 | - | - |
| 05009 | 205/65R16 | 95 | H | SL | BW | 520 A A | 5.500000 | 7.500000 | 1521@44 | - | 9.0 | 8.40 | 24.88 | 19.84 | - | - |
| 05215 | 215/60R16 | 95 | H | SL | BW | 520 A A | 6.000000 | 7.500000 | 1521@44 | - | 9.0 | 8.70 | 26.14 | 22.35 | - | - |
| 05095 | 215/65R16 | 98 | T | SL | BW | 520 A B | 6.000000 | 7.500000 | 1653@44 | - | 9.0 | 8.70 | 27.01 | 22.35 | - | - |
| 05145 | 215/70R16 | 100 | T | SL | BW | 520 A B | 5.500000 | 7.000000 | 1764@44 | - | 9.0 | 8.40 | 27.80 | 22.35 | - | - |
| 05235 | 225/60R16 | 98 | H | SL | BW | 520 A A | 6.000000 | 8.000000 | 1653@44 | - | 9.0 | 9.00 | 26.61 | 22.22 | - | - |
| 05165 | 235/65R16 | 103 | T | SL | BW | 520 A B | 6.500000 | 8.500000 | 1929@44 | - | 9.0 | 9.40 | 28.03 | 25.74 | - | - |
| ITEM # | TIRE SIZE | LOAD INDEX | SPEED RATING | LOAD ID | SIDEWALL | UTQG | MIN RIM WIDTH (IN) | MAX RIM WIDTH (IN) | SINGLE MAX LOAD AT COLD INFLATION PRESSURE (LBS@PSI) | DUAL MAX LOAD AT COLD INFLATION PRESSURE (LBS@PSI) | TREAD DEPTH (1/32") | OVERALL WIDTH (IN) | OVERALL DIAMETER (IN) | WEIGHT (LBS) | STUD SIZE | PLY RATING |
| --- | --- | --- | --- | --- | --- | --- | --- | --- | --- | --- | --- | --- | --- | --- | --- | --- |
| 05185 | 215/55R17 | 94 | H | SL | BW | 520 A A | 6.000000 | 7.500000 | 1477@44 | - | 9.0 | 8.90 | 26.30 | 23.10 | - | - |
| 05120 | 215/65R17 | 99 | T | SL | BW | 520 A B | 6.000000 | 7.500000 | 1709@44 | - | 9.0 | 8.70 | 28.03 | 23.95 | - | - |
| 05240 | 225/60R17 | 99 | H | SL | BW | 520 A A | 6.000000 | 8.000000 | 1709@44 | - | 9.0 | 9.00 | 27.64 | 24.95 | - | - |
| 05041 | 225/65R17 | 102 | H | SL | BW | 520 A A | 6.000000 | 8.000000 | 1874@44 | - | 9.0 | 9.00 | 28.46 | 26.40 | - | - |
| 05245 | 235/55R17 | 99 | H | SL | BW | 520 A A | 6.500000 | 8.500000 | 1709@44 | - | 9.0 | 9.60 | 27.17 | 27.76 | - | - |
| 05160 | 235/60R17 | 102 | T | SL | BW | 520 A B | 6.500000 | 8.500000 | 1874@44 | - | 9.0 | 9.30 | 27.64 | 24.95 | - | - |
| 05170 | 235/65R17 | 104 | T | SL | BW | 520 A B | 6.500000 | 8.500000 | 1984@44 | - | 9.0 | 9.40 | 29.06 | 28.16 | - | - |
| ITEM # | TIRE SIZE | LOAD INDEX | SPEED RATING | LOAD ID | SIDEWALL | UTQG | MIN RIM WIDTH (IN) | MAX RIM WIDTH (IN) | SINGLE MAX LOAD AT COLD INFLATION PRESSURE (LBS@PSI) | DUAL MAX LOAD AT COLD INFLATION PRESSURE (LBS@PSI) | TREAD DEPTH (1/32") | OVERALL WIDTH (IN) | OVERALL DIAMETER (IN) | WEIGHT (LBS) | STUD SIZE | PLY RATING |
| --- | --- | --- | --- | --- | --- | --- | --- | --- | --- | --- | --- | --- | --- | --- | --- | --- |
| 05255 | 225/55R18 | 98 | H | SL | BW | 520 A A | 6.000000 | 8.000000 | 1653@44 | - | 9.0 | 9.10 | 27.76 | 26.00 | - | - |
| 05250 | 225/60R18 | 100 | H | SL | BW | 520 A A | 6.000000 | 8.000000 | 1764@44 | - | 9.0 | 9.00 | 28.62 | 27.24 | - | - |
| 05265 | 235/55R18 | 100 | H | SL | BW | 520 A A | 6.500000 | 8.500000 | 1764@44 | - | 9.0 | 9.60 | 28.15 | 27.76 | - | - |