RAPTIS® R-T6X
Premium UHP | All-Season
Who says sports car drivers should have all the fun? Experience the ultimate in performance with the Raptis® R-T6X. Equipped with the same elevated technology of the Raptis® R-T6 for passenger cars, the Raptis® R-T6X is specifically engineered for today's popular Crossover/CUV's.
Features & Benefits
Advanced Silica Compound - Ensures balanced wet and snow performance.
Increased Contact Patch - Improves dry grip performance and overall tread life.
CoolCourseTM Temperature Control System - Dissipates heat to prevent breakdown and increase tire life.
Strategically Placed Ridges - Disperse water more quickly for better handling on wet surface.
3D Sipes - Minimize tread block movement for greater control when braking and tighter cornering.

Enhanced Performance
Innovative tread design provides optimal wet/dry traction and reduced road noise.

Maximum Control
Premium tire construction promotes high-speed driving stability with increased road surface contact.

Innovative Design
CoolCourseTM temperature control system* prevents high-speed heat buildup while strategically placed tire ridges combat hydroplaning in wet conditions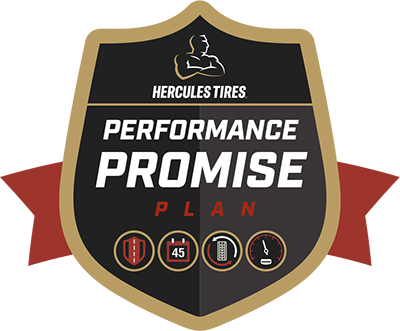 Performance Promise Warranty
60K MILES
Built to deliver 60,000 mi/96,000 km and protected under our Hercules Mileage Coverage Plan.
ROAD HAZARD
Covered by our industry-leading Road Hazard Protection Program, which provides free replacement for up to two years or the first 50% of tread life.
TRUST OUR RIDE TEST DRIVE
If you are not completely satisfied with these tires, you may return them within 45 days to exchange them for a comparable set of Hercules brand tires.
WORKMANSHIP & MATERIALS
If this tire becomes unserviceable due to a flaw in workmanship or materials, we will replace it at no charge during the first 50% of tread life.
| ITEM # | TIRE SIZE | LOAD INDEX | SPEED RATING | LOAD ID | SIDEWALL | UTQG | MIN RIM WIDTH (IN) | MAX RIM WIDTH (IN) | SINGLE MAX LOAD AT COLD INFLATION PRESSURE (LBS@PSI) | DUAL MAX LOAD AT COLD INFLATION PRESSURE (LBS@PSI) | TREAD DEPTH (1/32") | OVERALL WIDTH (IN) | OVERALL DIAMETER (IN) | WEIGHT (LBS) | STUD SIZE | PLY RATING |
| --- | --- | --- | --- | --- | --- | --- | --- | --- | --- | --- | --- | --- | --- | --- | --- | --- |
| 98611 | 235/45R19 | 95 | H | SL | BW | 600 A A | 7.500000 | 9.000000 | 1521@51 | - | 9.7 | 9.29 | 27.36 | 27.20 | - | - |
| 98610 | 235/50R19XL | 103 | V | XL | BW | 600 A A | 6.500000 | 8.500000 | 1929@50 | - | 9.5 | 9.65 | 28.31 | 27.20 | - | - |
| 98609 | 235/55R19XL | 105 | V | XL | BW | 600 A A | 6.500000 | 8.500000 | 2039@50 | - | 10.1 | 9.65 | 29.17 | 29.10 | - | - |
| 98607 | 255/50R19XL | 107 | V | XL | BW | 600 A A | 7.000000 | 9.000000 | 2149@50 | - | 10.1 | 10.43 | 29.09 | 32.00 | - | - |
| 98608 | 255/60R19 | 109 | H | SL | BW | 600 A A | 7.000000 | 9.000000 | 2271@51 | - | 9.5 | 10.24 | 31.06 | 32.80 | - | - |
| ITEM # | TIRE SIZE | LOAD INDEX | SPEED RATING | LOAD ID | SIDEWALL | UTQG | MIN RIM WIDTH (IN) | MAX RIM WIDTH (IN) | SINGLE MAX LOAD AT COLD INFLATION PRESSURE (LBS@PSI) | DUAL MAX LOAD AT COLD INFLATION PRESSURE (LBS@PSI) | TREAD DEPTH (1/32") | OVERALL WIDTH (IN) | OVERALL DIAMETER (IN) | WEIGHT (LBS) | STUD SIZE | PLY RATING |
| --- | --- | --- | --- | --- | --- | --- | --- | --- | --- | --- | --- | --- | --- | --- | --- | --- |
| 98612 | 255/45R20 | 101 | H | SL | BW | 600 A A | 8.000000 | 9.500000 | 1819@51 | - | 9.5 | 10.04 | 29.06 | 31.00 | - | - |
| 98613 | 265/45R20XL | 108 | V | XL | BW | 600 A A | 8.500000 | 10.000000 | 2205@50 | - | 9.5 | 10.47 | 29.37 | 31.50 | - | - |
| 98614 | 275/45R20XL | 110 | V | XL | BW | 600 A A | 8.500000 | 10.500000 | 2337@50 | - | 9.5 | 10.75 | 29.76 | 33.00 | - | - |