RAPTIS® R-T6
Premium UHP | All-Season
Unleash the full potential of your vehicle and experience the thrill of the road with the ultimate choice for passenger cars and sports sedans. The Raptis® R-T6, equipped with cutting edge technology and unparalleled engineering, ensures an unmatched combination of traction, ride comfort and winter performance all without compromising safety.
Features & Benefits
Advanced Silica Compound - Ensures balanced wet and snow performance.
Increased ContactPatch - Improves dry grip performance and overall tread life.
Tie-Bars - Enhances shoulder stiffness for improved handling performance.
Strategically Placed Ridges - Disperse water more quickly for better handling on wet surface.
3D Sipes - Minimize tread block movement for greater control when braking and tighter cornering.

Improved Traction
Advanced tread design delivers ultra-high performance in any season, including wet conditions and winter weather.
Maximum Grip
Increased contact patch promotes even wear, longer tread life, and superior control.

Greater Control
3D sipes are strategically placed for improved braking control and tighter cornering.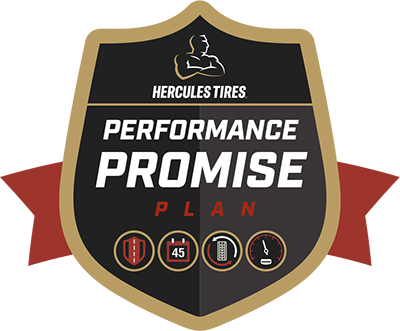 Performance Promise Warranty
50K MILES
Built to deliver 50,000 mi/80,000 km and protected under our Hercules Mileage Coverage Plan.
ROAD HAZARD
Covered by our industry-leading Road Hazard Protection Program, which provides free replacement for up to two years or the first 50% of tread life.
TRUST OUR RIDE TEST DRIVE
If you are not completely satisfied with these tires, you may return them within 45 days to exchange them for a comparable set of Hercules brand tires.
WORKMANSHIP & MATERIALS
If this tire becomes unserviceable due to a flaw in workmanship or materials, we will replace it at no charge during the first 50% of tread life.
| ITEM # | TIRE SIZE | LOAD INDEX | SPEED RATING | LOAD ID | SIDEWALL | UTQG | MIN RIM WIDTH (IN) | MAX RIM WIDTH (IN) | SINGLE MAX LOAD AT COLD INFLATION PRESSURE (LBS@PSI) | DUAL MAX LOAD AT COLD INFLATION PRESSURE (LBS@PSI) | TREAD DEPTH (1/32") | OVERALL WIDTH (IN) | OVERALL DIAMETER (IN) | WEIGHT (LBS) | STUD SIZE | PLY RATING |
| --- | --- | --- | --- | --- | --- | --- | --- | --- | --- | --- | --- | --- | --- | --- | --- | --- |
| 98564.1 | 205/55R16XL | 94 | W | XL | BW | 500 AA A | 6.000000 | 7.000000 | 1477@50 | - | 9.8 | 8.43 | 24.88 | 20.30 | - | - |
| 98569.1 | 215/55R16XL | 97 | W | XL | BW | 500 AA A | 6.500000 | 7.500000 | 1609@50 | - | 9.8 | 8.90 | 25.28 | 21.40 | - | - |
| ITEM # | TIRE SIZE | LOAD INDEX | SPEED RATING | LOAD ID | SIDEWALL | UTQG | MIN RIM WIDTH (IN) | MAX RIM WIDTH (IN) | SINGLE MAX LOAD AT COLD INFLATION PRESSURE (LBS@PSI) | DUAL MAX LOAD AT COLD INFLATION PRESSURE (LBS@PSI) | TREAD DEPTH (1/32") | OVERALL WIDTH (IN) | OVERALL DIAMETER (IN) | WEIGHT (LBS) | STUD SIZE | PLY RATING |
| --- | --- | --- | --- | --- | --- | --- | --- | --- | --- | --- | --- | --- | --- | --- | --- | --- |
| 98578.1 | 205/45R17XL | 88 | W | XL | BW | 500 AA A | 6.500000 | 7.500000 | 1235@50 | - | 9.8 | 8.11 | 24.25 | 19.40 | - | - |
| 98568.1 | 205/50R17XL | 93 | W | XL | BW | 500 AA A | 6.000000 | 7.000000 | 1433@50 | - | 9.8 | 8.43 | 25.12 | 21.20 | - | - |
| 98562.1 | 215/45R17XL | 91 | W | XL | BW | 500 AA A | 6.500000 | 8.000000 | 1356@50 | - | 9.8 | 8.39 | 24.65 | 20.70 | - | - |
| 98577 | 215/50R17XL | 95 | W | XL | BW | 500 AA A | 6.500000 | 7.500000 | 1521@50 | - | 9.8 | 8.90 | 25.51 | 22.00 | - | - |
| 98565.1 | 215/55R17XL | 98 | W | XL | BW | 500 AA A | 6.500000 | 7.500000 | 1653@50 | - | 9.8 | 8.90 | 26.30 | 24.00 | - | - |
| 98560.1 | 225/45R17XL | 94 | W | XL | BW | 500 AA A | 7.000000 | 8.000000 | 1477@50 | - | 9.8 | 8.86 | 24.96 | 21.40 | - | - |
| 98570.1 | 225/50R17XL | 98 | W | XL | BW | 500 AA A | 6.500000 | 7.500000 | 1653@50 | - | 9.8 | 9.17 | 25.91 | 22.50 | - | - |
| 98573.1 | 225/55R17XL | 101 | W | XL | BW | 500 AA A | 6.500000 | 7.500000 | 1819@50 | - | 9.8 | 9.17 | 26.77 | 23.40 | - | - |
| 98582 | 235/45R17XL | 97 | W | XL | BW | 500 AA A | 7.500000 | 8.500000 | 1609@50 | - | 9.8 | 9.29 | 25.35 | 23.10 | - | - |
| 98567.1 | 235/50R17XL | 100 | W | XL | BW | 500 AA A | 7.000000 | 8.000000 | 1764@50 | - | 9.8 | 9.65 | 26.30 | 24.50 | - | - |
| 98576 | 235/55R17 | 99 | W | SL | BW | 500 AA A | 7.000000 | 8.000000 | 1709@51 | - | 9.8 | 9.65 | 27.17 | 27.10 | - | - |
| 98585 | 245/45R17XL | 99 | W | XL | BW | 500 AA A | 7.500000 | 8.500000 | 1709@50 | - | 9.8 | 9.57 | 25.67 | 24.50 | - | - |
| ITEM # | TIRE SIZE | LOAD INDEX | SPEED RATING | LOAD ID | SIDEWALL | UTQG | MIN RIM WIDTH (IN) | MAX RIM WIDTH (IN) | SINGLE MAX LOAD AT COLD INFLATION PRESSURE (LBS@PSI) | DUAL MAX LOAD AT COLD INFLATION PRESSURE (LBS@PSI) | TREAD DEPTH (1/32") | OVERALL WIDTH (IN) | OVERALL DIAMETER (IN) | WEIGHT (LBS) | STUD SIZE | PLY RATING |
| --- | --- | --- | --- | --- | --- | --- | --- | --- | --- | --- | --- | --- | --- | --- | --- | --- |
| 98572.1 | 215/45R18XL | 93 | Y | XL | BW | 500 AA A | 6.500000 | 8.000000 | 1433@50 | - | 9.8 | 8.39 | 25.63 | 21.80 | - | - |
| 98586 | 225/40R18XL | 92 | W | XL | BW | 500 AA A | 7.500000 | 8.500000 | 1389@50 | - | 9.8 | 9.06 | 25.08 | 22.90 | - | - |
| 98587 | 225/45R18XL | 95 | W | XL | BW | 500 AA A | 7.000000 | 8.000000 | 1521@50 | - | 9.8 | 8.86 | 25.94 | 22.50 | - | - |
| 98566.1 | 225/50R18 | 95 | W | SL | BW | 500 AA A | 6.500000 | 7.500000 | 1521@51 | - | 9.8 | 9.17 | 26.89 | 23.60 | - | - |
| 98594 | 235/40R18XL | 95 | W | XL | BW | 500 AA A | 8.000000 | 9.000000 | 1521@50 | - | 9.8 | 9.49 | 25.39 | 23.10 | - | - |
| 98581 | 235/45R18XL | 98 | W | XL | BW | 500 AA A | 7.500000 | 8.500000 | 1653@50 | - | 9.8 | 9.29 | 26.34 | 24.50 | - | - |
| 98571.1 | 235/50R18 | 97 | W | SL | BW | 500 AA A | 7.000000 | 8.000000 | 1609@51 | - | 9.8 | 9.65 | 27.28 | 26.80 | - | - |
| 98575.1 | 235/55R18 | 100 | W | SL | BW | 500 AA A | 7.000000 | 8.000000 | 1764@51 | - | 9.8 | 9.65 | 28.15 | 28.40 | - | - |
| 98588 | 245/40R18XL | 97 | W | XL | BW | 500 AA A | 8.000000 | 9.000000 | 1609@50 | - | 9.8 | 9.76 | 25.71 | 24.70 | - | - |
| 98580 | 245/45R18XL | 100 | W | XL | BW | 500 AA A | 7.500000 | 8.500000 | 1764@50 | - | 9.8 | 9.57 | 26.65 | 26.50 | - | - |
| 98574.1 | 245/50R18 | 100 | W | SL | BW | 500 AA A | 7.000000 | 8.000000 | 1764@51 | - | 9.8 | 9.96 | 27.68 | 27.80 | - | - |
| 98603 | 255/35R18XL | 94 | W | XL | BW | 500 AA A | 8.500000 | 9.500000 | 1477@50 | - | 9.8 | 10.24 | 25.00 | 24.30 | - | - |
| 98602.1 | 255/40R18XL | 99 | W | XL | BW | 500 AA A | 8.500000 | 9.500000 | 1709@50 | - | 9.8 | 10.24 | 26.02 | 26.00 | - | - |
| 98604 | 265/35R18XL | 97 | Y | XL | BW | 500 AA A | 9.000000 | 10.000000 | 1609@50 | - | 9.8 | 10.67 | 25.31 | 25.10 | - | - |
| ITEM # | TIRE SIZE | LOAD INDEX | SPEED RATING | LOAD ID | SIDEWALL | UTQG | MIN RIM WIDTH (IN) | MAX RIM WIDTH (IN) | SINGLE MAX LOAD AT COLD INFLATION PRESSURE (LBS@PSI) | DUAL MAX LOAD AT COLD INFLATION PRESSURE (LBS@PSI) | TREAD DEPTH (1/32") | OVERALL WIDTH (IN) | OVERALL DIAMETER (IN) | WEIGHT (LBS) | STUD SIZE | PLY RATING |
| --- | --- | --- | --- | --- | --- | --- | --- | --- | --- | --- | --- | --- | --- | --- | --- | --- |
| 98593 | 225/40R19XL | 93 | W | XL | BW | 500 AA A | 7.500000 | 8.500000 | 1433@50 | - | 9.8 | 9.06 | 26.10 | 24.00 | - | - |
| 98589 | 225/45R19XL | 96 | W | XL | BW | 500 AA A | 7.000000 | 8.000000 | 1565@50 | - | 9.8 | 8.86 | 26.97 | 23.10 | - | - |
| 98591 | 235/40R19XL | 96 | W | XL | BW | 500 AA A | 8.000000 | 9.000000 | 1565@50 | - | 9.8 | 9.49 | 26.42 | 24.30 | - | - |
| 98563.1 | 235/55R19XL | 105 | W | XL | BW | 500 AA A | 7.000000 | 8.000000 | 2039@50 | - | 9.8 | 9.65 | 29.17 | 29.50 | - | - |
| 98590 | 245/40R19XL | 98 | Y | XL | BW | 500 AA A | 8.000000 | 9.000000 | 1653@50 | - | 9.8 | 9.76 | 26.73 | 25.80 | - | - |
| 98583 | 245/45R19XL | 102 | Y | XL | BW | 500 AA A | 7.500000 | 8.500000 | 1874@50 | - | 9.8 | 9.57 | 27.68 | 27.80 | - | - |
| 98605 | 255/35R19XL | 96 | W | XL | BW | 500 AA A | 8.500000 | 9.500000 | 1565@50 | - | 9.8 | 10.24 | 26.02 | 25.40 | - | - |
| 98597 | 255/40R19XL | 100 | W | XL | BW | 500 AA A | 8.500000 | 9.500000 | 1764@50 | - | 9.8 | 10.24 | 27.05 | 27.10 | - | - |
| 98599 | 275/35R19XL | 100 | Y | XL | BW | 500 AA A | 9.000000 | 10.000000 | 1764@50 | - | 9.8 | 10.94 | 26.57 | 29.50 | - | - |
| 98598 | 275/40R19XL | 105 | W | XL | BW | 500 AA A | 9.000000 | 10.000000 | 2039@50 | - | 9.8 | 10.94 | 27.68 | 30.40 | - | - |
| ITEM # | TIRE SIZE | LOAD INDEX | SPEED RATING | LOAD ID | SIDEWALL | UTQG | MIN RIM WIDTH (IN) | MAX RIM WIDTH (IN) | SINGLE MAX LOAD AT COLD INFLATION PRESSURE (LBS@PSI) | DUAL MAX LOAD AT COLD INFLATION PRESSURE (LBS@PSI) | TREAD DEPTH (1/32") | OVERALL WIDTH (IN) | OVERALL DIAMETER (IN) | WEIGHT (LBS) | STUD SIZE | PLY RATING |
| --- | --- | --- | --- | --- | --- | --- | --- | --- | --- | --- | --- | --- | --- | --- | --- | --- |
| 98601.1 | 245/35R20XL | 95 | Y | XL | BW | 500 AA A | 8.000000 | 9.000000 | 1521@50 | - | 9.8 | 9.76 | 26.77 | 24.90 | - | - |
| 98592 | 245/40R20XL | 99 | W | XL | BW | 500 AA A | 8.000000 | 9.000000 | 1709@50 | - | 9.8 | 9.76 | 27.72 | 26.90 | - | - |
| 98579.1 | 245/45R20XL | 103 | W | XL | BW | 500 AA A | 7.500000 | 8.500000 | 1929@50 | - | 9.8 | 9.57 | 28.66 | 29.10 | - | - |
| 98606 | 255/35R20XL | 97 | W | XL | BW | 500 AA A | 8.500000 | 9.500000 | 1609@50 | - | 9.8 | 10.24 | 27.01 | 26.50 | - | - |
| 98584 | 255/45R20XL | 105 | W | XL | BW | 500 AA A | 8.000000 | 9.000000 | 2039@50 | - | 9.8 | 10.04 | 29.06 | 31.30 | - | - |
| 98561.1 | 275/30R20XL | 97 | Y | XL | BW | 500 AA A | 9.000000 | 10.000000 | 1609@50 | - | 9.8 | 10.94 | 26.54 | 27.80 | - | - |
| 98600 | 275/35R20XL | 102 | Y | XL | BW | 500 AA A | 9.000000 | 10.000000 | 1874@50 | - | 9.8 | 10.94 | 27.56 | 30.60 | - | - |
| 98596 | 275/40R20XL | 106 | Y | XL | BW | 500 AA A | 9.000000 | 10.000000 | 2094@50 | - | 9.8 | 10.94 | 28.66 | 31.50 | - | - |
| 98595.1 | 275/45R20XL | 110 | W | XL | BW | 500 AA A | 8.500000 | 9.500000 | 2337@50 | - | 9.8 | 10.75 | 29.76 | 33.50 | - | - |