RAPTIS® R-T5
Premium UHP | All-Season
The Hercules Raptis R-T5 – Made to Move. With top-tier technologies, innovative design and advanced materials, the bold Hercules Raptis R-T5 all-season UHP tire is changing the very landscape of performance tires. Marrying the year-round versatility of premium touring tires with the confident control of ultra-high performance tires, the Raptis R-T5 delivers the traction, control and longer wear today's performance cars and high-end sport sedans demand.
Features & Benefits
CoolCourse™ temperature control system to optimize performance and enhance tire life.
3D UltraWave™ siping and an asymmetric tread design for greater control and tighter handling.
High-grade silica tread compound and Hercules EvacuTrack™ grooves for better wet traction.
500 AA A UTQG – the highest traction grading possible.
Wide footprint increases contact with the road surface for better control and maximum grip.

Precise Handling
The ridged design of the grooves dispel water from the tire more quickly, enabling better handling on wet surfaces.

Premium Traction
Larger tread blocks on the outside of the tire allow for better vehicle responsiveness and cornering performance, while connected grooves channel airflow to reduce resistance.

Maximum Grip
CoolCourseTM Temperature Control System provides unique feather shape design that optimizing performance at high speeds and extending tread life.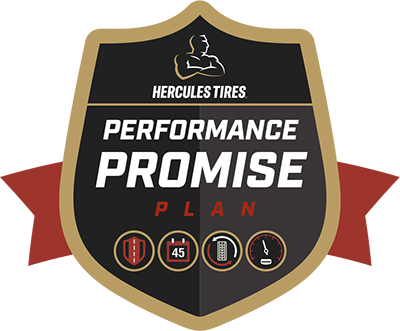 Performance Promise Warranty
45K MILES
Built to deliver 45,000 mi/75,000 km and protected under our Hercules Mileage Coverage Plan.
| ITEM # | TIRE SIZE | LOAD INDEX | SPEED RATING | LOAD ID | SIDEWALL | UTQG | MIN RIM WIDTH (IN) | MAX RIM WIDTH (IN) | SINGLE MAX LOAD AT COLD INFLATION PRESSURE (LBS@PSI) | DUAL MAX LOAD AT COLD INFLATION PRESSURE (LBS@PSI) | TREAD DEPTH (1/32") | OVERALL WIDTH (IN) | OVERALL DIAMETER (IN) | WEIGHT (LBS) | STUD SIZE | PLY RATING |
| --- | --- | --- | --- | --- | --- | --- | --- | --- | --- | --- | --- | --- | --- | --- | --- | --- |
| 91418 | 205/40ZR17XL | 84 | W | XL | BW | 500 AA A | 7.000000 | 8.000000 | 1102@50 | - | 9.5 | 8.35 | 23.50 | 19.80 | - | - |
| 91410 | 205/50ZR17XL | 93 | W | XL | BW | 500 AA A | 5.500000 | 7.500000 | 1433@50 | - | 9.5 | 8.43 | 25.10 | 23.10 | - | - |
| 91414 | 215/45ZR17XL | 91 | W | XL | BW | 500 AA A | 7.000000 | 8.000000 | 1356@50 | - | 9.5 | 8.39 | 24.60 | 22.40 | - | - |
| 91411 | 215/50ZR17XL | 95 | W | XL | BW | 500 AA A | 6.000000 | 7.500000 | 1521@50 | - | 9.5 | 8.90 | 25.50 | 24.40 | - | - |
| 91406 | 215/55ZR17XL | 98 | W | XL | BW | 500 AA A | 6.000000 | 7.500000 | 1653@50 | - | 9.5 | 8.90 | 26.30 | 24.90 | - | - |
| 91415 | 225/45ZR17XL | 94 | W | XL | BW | 500 AA A | 7.000000 | 8.500000 | 1477@50 | - | 9.5 | 8.86 | 25.00 | 24.30 | - | - |
| 91412.1 | 225/50ZR17XL | 98 | W | XL | BW | 500 AA A | 6.000000 | 8.000000 | 1653@50 | - | 9.5 | 9.17 | 25.90 | 25.60 | - | - |
| 91407 | 225/55ZR17XL | 101 | W | XL | BW | 500 AA A | 6.000000 | 8.000000 | 1819@50 | - | 9.5 | 9.17 | 26.80 | 27.10 | - | - |
| 91416 | 235/45ZR17XL | 97 | W | XL | BW | 500 AA A | 7.500000 | 9.000000 | 1609@50 | - | 9.5 | 9.29 | 25.40 | 25.10 | - | - |
| 91413 | 235/50ZR17XL | 100 | W | XL | BW | 500 AA A | 6.000000 | 8.500000 | 1764@50 | - | 9.5 | 9.65 | 26.30 | 27.30 | - | - |
| 91409 | 235/55ZR17 | 99 | W | SL | BW | 500 AA A | 6.500000 | 8.500000 | 1709@51 | - | 9.5 | 9.65 | 27.20 | 28.30 | - | - |
| 91419 | 245/40ZR17XL | 95 | W | XL | BW | 500 AA A | 8.000000 | 9.500000 | 1521@50 | - | 9.5 | 9.76 | 24.70 | 24.90 | - | - |
| 91417 | 245/45ZR17XL | 99 | W | XL | BW | 500 AA A | 7.500000 | 9.000000 | 1709@50 | - | 9.5 | 9.57 | 25.70 | 26.80 | - | - |
| 91420 | 255/40ZR17XL | 98 | W | XL | BW | 500 AA A | 8.500000 | 10.000000 | 1653@50 | - | 9.5 | 10.24 | 25.00 | 26.70 | - | - |
| ITEM # | TIRE SIZE | LOAD INDEX | SPEED RATING | LOAD ID | SIDEWALL | UTQG | MIN RIM WIDTH (IN) | MAX RIM WIDTH (IN) | SINGLE MAX LOAD AT COLD INFLATION PRESSURE (LBS@PSI) | DUAL MAX LOAD AT COLD INFLATION PRESSURE (LBS@PSI) | TREAD DEPTH (1/32") | OVERALL WIDTH (IN) | OVERALL DIAMETER (IN) | WEIGHT (LBS) | STUD SIZE | PLY RATING |
| --- | --- | --- | --- | --- | --- | --- | --- | --- | --- | --- | --- | --- | --- | --- | --- | --- |
| 91423.2 | 215/45ZR18XL | 93 | W | XL | BW | 500 AA A | 7.000000 | 8.000000 | 1433@50 | - | 9.5 | 8.39 | 25.60 | 23.80 | - | - |
| 91428 | 225/40ZR18XL | 92 | W | XL | BW | 500 AA A | 7.500000 | 9.000000 | 1389@50 | - | 9.5 | 9.06 | 25.10 | 23.60 | - | - |
| 91424 | 225/45ZR18XL | 95 | W | XL | BW | 500 AA A | 7.000000 | 8.500000 | 1521@50 | - | 9.5 | 8.86 | 25.90 | 24.90 | - | - |
| 91421 | 225/50ZR18 | 95 | W | SL | BW | 500 AA A | 6.000000 | 8.000000 | 1521@51 | - | 9.5 | 9.17 | 26.90 | 26.80 | - | - |
| 91429 | 235/40ZR18XL | 95 | W | XL | BW | 500 AA A | 8.000000 | 9.500000 | 1521@50 | - | 9.5 | 9.49 | 25.40 | 25.00 | - | - |
| 91425 | 235/45ZR18XL | 98 | W | XL | BW | 500 AA A | 7.500000 | 9.000000 | 1653@50 | - | 9.5 | 9.29 | 26.30 | 26.50 | - | - |
| 91422 | 235/50ZR18XL | 101 | W | XL | BW | 500 AA A | 6.500000 | 8.500000 | 1819@50 | - | 9.5 | 9.65 | 27.30 | 29.00 | - | - |
| 91408 | 235/55ZR18XL | 104 | W | XL | BW | 500 AA A | 6.500000 | 8.500000 | 1984@50 | - | 9.5 | 9.65 | 28.10 | 29.70 | - | - |
| 91430 | 245/40ZR18XL | 97 | W | XL | BW | 500 AA A | 8.000000 | 9.500000 | 1609@50 | - | 9.5 | 9.76 | 25.70 | 26.30 | - | - |
| 91426.1 | 245/45ZR18XL | 100 | W | XL | BW | 500 AA A | 7.500000 | 9.000000 | 1764@50 | - | 9.5 | 9.57 | 26.70 | 28.40 | - | - |
| 91431 | 255/35ZR18 | 90 | W | SL | BW | 500 AA A | 8.500000 | 10.000000 | 1323@51 | - | 9.5 | 10.24 | 25.00 | 25.90 | - | - |
| 94664 | 255/40ZR18XL | 99 | W | XL | BW | 500 AA A | 8.500000 | 10.000000 | 1709@50 | - | 9.5 | 10.20 | 26.00 | 25.82 | - | - |
| 91427 | 255/45ZR18XL | 103 | W | XL | BW | 500 AA A | 8.000000 | 9.500000 | 1929@50 | - | 9.5 | 10.04 | 27.00 | 29.50 | - | - |
| 94665 | 265/35ZR18XL | 97 | W | XL | BW | 500 AA A | 9.000000 | 10.500000 | 1609@50 | - | 9.5 | 10.70 | 25.30 | 23.61 | - | - |
| 94666 | 275/35ZR18XL | 99 | W | XL | BW | 500 AA A | 9.000000 | 11.000000 | 1709@50 | - | 9.5 | 10.90 | 25.60 | 26.21 | - | - |
| ITEM # | TIRE SIZE | LOAD INDEX | SPEED RATING | LOAD ID | SIDEWALL | UTQG | MIN RIM WIDTH (IN) | MAX RIM WIDTH (IN) | SINGLE MAX LOAD AT COLD INFLATION PRESSURE (LBS@PSI) | DUAL MAX LOAD AT COLD INFLATION PRESSURE (LBS@PSI) | TREAD DEPTH (1/32") | OVERALL WIDTH (IN) | OVERALL DIAMETER (IN) | WEIGHT (LBS) | STUD SIZE | PLY RATING |
| --- | --- | --- | --- | --- | --- | --- | --- | --- | --- | --- | --- | --- | --- | --- | --- | --- |
| 91432 | 225/45ZR19XL | 96 | W | XL | BW | 500 AA A | 7.000000 | 8.500000 | 1565@50 | - | 9.5 | 8.86 | 27.00 | 26.10 | - | - |
| 91436 | 235/35ZR19XL | 91 | W | XL | BW | 500 AA A | 8.000000 | 9.500000 | 1356@50 | - | 9.5 | 9.49 | 25.50 | 24.20 | - | - |
| 91437 | 245/35ZR19XL | 93 | W | XL | BW | 500 AA A | 8.000000 | 9.500000 | 1433@50 | - | 9.5 | 9.76 | 25.80 | 25.80 | - | - |
| 91434 | 245/40ZR19 | 94 | W | SL | BW | 500 AA A | 8.000000 | 9.500000 | 1477@51 | - | 9.5 | 9.76 | 26.70 | 27.50 | - | - |
| 91433 | 245/45ZR19 | 98 | W | SL | BW | 500 AA A | 7.500000 | 9.000000 | 1653@51 | - | 9.5 | 9.57 | 27.70 | 29.10 | - | - |
| 91438 | 255/35ZR19XL | 96 | W | XL | BW | 500 AA A | 8.500000 | 10.000000 | 1565@50 | - | 9.5 | 10.24 | 26.00 | 26.80 | - | - |
| 91435 | 255/40ZR19XL | 100 | W | XL | BW | 500 AA A | 8.500000 | 10.000000 | 1764@50 | - | 9.5 | 10.24 | 27.00 | 28.60 | - | - |
| 94668 | 275/35ZR19XL | 100 | W | XL | BW | 500 AA A | 9.000000 | 11.000000 | 1764@50 | - | 9.5 | 10.90 | 26.60 | 27.69 | - | - |
| 94667 | 275/40ZR19XL | 105 | W | XL | BW | 500 AA A | 9.000000 | 11.000000 | 2039@50 | - | 9.5 | 10.90 | 27.70 | 29.54 | - | - |
| ITEM # | TIRE SIZE | LOAD INDEX | SPEED RATING | LOAD ID | SIDEWALL | UTQG | MIN RIM WIDTH (IN) | MAX RIM WIDTH (IN) | SINGLE MAX LOAD AT COLD INFLATION PRESSURE (LBS@PSI) | DUAL MAX LOAD AT COLD INFLATION PRESSURE (LBS@PSI) | TREAD DEPTH (1/32") | OVERALL WIDTH (IN) | OVERALL DIAMETER (IN) | WEIGHT (LBS) | STUD SIZE | PLY RATING |
| --- | --- | --- | --- | --- | --- | --- | --- | --- | --- | --- | --- | --- | --- | --- | --- | --- |
| 94670 | 245/35ZR20XL | 95 | W | XL | BW | 500 AA A | 8.000000 | 9.500000 | 1521@50 | - | 9.5 | 9.80 | 26.80 | 23.24 | - | - |
| 91441.1 | 245/40ZR20XL | 99 | W | XL | BW | 500 AA A | 8.000000 | 9.500000 | 1709@50 | - | 9.5 | 9.76 | 27.70 | 28.90 | - | - |
| 91439 | 245/45ZR20XL | 103 | W | XL | BW | 500 AA A | 7.500000 | 9.000000 | 1929@50 | - | 9.5 | 9.57 | 28.70 | 30.00 | - | - |
| 91442 | 255/35ZR20XL | 97 | W | XL | BW | 500 AA A | 8.500000 | 10.000000 | 1609@50 | - | 9.5 | 10.24 | 27.00 | 28.20 | - | - |
| 91440 | 255/45ZR20 | 101 | W | SL | BW | 500 AA A | 8.000000 | 9.500000 | 1819@51 | - | 9.5 | 10.04 | 29.10 | 32.60 | - | - |
| 91443 | 275/35ZR20XL | 102 | W | XL | BW | 500 AA A | 9.000000 | 11.000000 | 1874@50 | - | 9.5 | 10.94 | 27.60 | 30.70 | - | - |
| 94669 | 275/40ZR20XL | 106 | W | XL | BW | 500 AA A | 9.000000 | 10.500000 | 2094@50 | - | 9.5 | 10.90 | 28.70 | 31.53 | - | - |