POWER ST2
Radial-Ply | Specialty Trailer
DISCONTINUED - Replacement tire.  Strong Guard ST
The Hercules Power ST2 Radial Trailer – Haul it All. Specially designed to reduce rolling resistance, improve fuel economy and promote long-lasting wear, the Hercules Power ST2 Radial Trailer tire is the smart call for any haul. No matter the size of the load or the conditions of the road, trailers equipped with this tire get the promise of performance and peace-of-mind that can only come from a tire built specifically for trailer use.
Features & Benefits
Super high tensile steel belts deliver maximum durability.
Advanced tread compound offers greater power and durability.
Engineered specifically for trailer applications.
Special tread compound provides exceptional wet handling and braking.
See replacement tire below.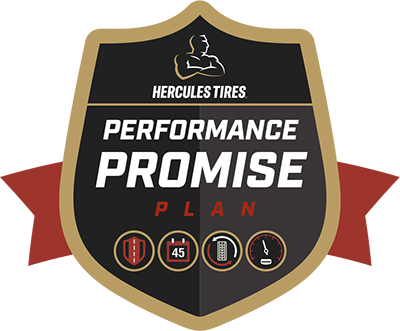 Performance Promise Warranty
36-MONTH PROTECTION PLAN
Backed by a 36-month Limited Protection Policy covering defects in workmanship and materials.
| ITEM # | TIRE SIZE | LOAD INDEX | SPEED RATING | LOAD ID | SIDEWALL | UTQG | MIN RIM WIDTH (IN) | MAX RIM WIDTH (IN) | SINGLE MAX LOAD AT COLD INFLATION PRESSURE (LBS@PSI) | DUAL MAX LOAD AT COLD INFLATION PRESSURE (LBS@PSI) | TREAD DEPTH (1/32") | OVERALL WIDTH (IN) | OVERALL DIAMETER (IN) | WEIGHT (LBS) | STUD SIZE | PLY RATING |
| --- | --- | --- | --- | --- | --- | --- | --- | --- | --- | --- | --- | --- | --- | --- | --- | --- |
| 94749 | ST175/80R13/6 | 91/87 | L | C | BW | | 4.500000 | 5.500000 | 1360@50 | 1200@50 | 9.4 | 7.17 | 24.02 | 19.21 | - | - |
| ITEM # | TIRE SIZE | LOAD INDEX | SPEED RATING | LOAD ID | SIDEWALL | UTQG | MIN RIM WIDTH (IN) | MAX RIM WIDTH (IN) | SINGLE MAX LOAD AT COLD INFLATION PRESSURE (LBS@PSI) | DUAL MAX LOAD AT COLD INFLATION PRESSURE (LBS@PSI) | TREAD DEPTH (1/32") | OVERALL WIDTH (IN) | OVERALL DIAMETER (IN) | WEIGHT (LBS) | STUD SIZE | PLY RATING |
| --- | --- | --- | --- | --- | --- | --- | --- | --- | --- | --- | --- | --- | --- | --- | --- | --- |
| 94750 | ST205/75R14/6 | 100/96 | L | C | BW | | 5.000000 | 6.500000 | 1760@50 | 1570@50 | 10.3 | 7.99 | 25.98 | 22.97 | - | - |
| 94751 | ST215/75R14/6 | 102/98 | L | C | BW | | 5.500000 | 7.000000 | 1870@50 | 1650@50 | 10.3 | 8.43 | 26.69 | 26.46 | - | - |
| ITEM # | TIRE SIZE | LOAD INDEX | SPEED RATING | LOAD ID | SIDEWALL | UTQG | MIN RIM WIDTH (IN) | MAX RIM WIDTH (IN) | SINGLE MAX LOAD AT COLD INFLATION PRESSURE (LBS@PSI) | DUAL MAX LOAD AT COLD INFLATION PRESSURE (LBS@PSI) | TREAD DEPTH (1/32") | OVERALL WIDTH (IN) | OVERALL DIAMETER (IN) | WEIGHT (LBS) | STUD SIZE | PLY RATING |
| --- | --- | --- | --- | --- | --- | --- | --- | --- | --- | --- | --- | --- | --- | --- | --- | --- |
| 94753 | ST205/75R15/8 | 107/102 | L | D | BW | | 5.000000 | 6.500000 | 2150@65 | 1870@65 | 10.3 | 7.99 | 26.94 | 26.46 | - | - |
| 94755 | ST225/75R15/10 | 117/112 | L | E | BW | | 6.000000 | 7.000000 | 2830@80 | 2470@80 | 10.3 | 8.98 | 28.07 | 31.53 | - | - |
| ITEM # | TIRE SIZE | LOAD INDEX | SPEED RATING | LOAD ID | SIDEWALL | UTQG | MIN RIM WIDTH (IN) | MAX RIM WIDTH (IN) | SINGLE MAX LOAD AT COLD INFLATION PRESSURE (LBS@PSI) | DUAL MAX LOAD AT COLD INFLATION PRESSURE (LBS@PSI) | TREAD DEPTH (1/32") | OVERALL WIDTH (IN) | OVERALL DIAMETER (IN) | WEIGHT (LBS) | STUD SIZE | PLY RATING |
| --- | --- | --- | --- | --- | --- | --- | --- | --- | --- | --- | --- | --- | --- | --- | --- | --- |
| 94756 | ST235/80R16/10 | 124/120 | L | E | BW | | 6.000000 | 7.500000 | 3520@80 | 3080@80 | 10.3 | 8.94 | 30.67 | 40.79 | - | - |
| 94757 | ST235/85R16/12 | 128/124 | L | F | BW | | 6.000000 | 7.500000 | 3960@95 | 3520@95 | 10.1 | 9.13 | 31.67 | 45.86 | - | - |