H/P 4000
Cosmetic Performance | All-Season
The Hercules H/P 4000 – the classic. The H/P 4000 was developed for dependable performance. This high quality and affordable tire features a smooth raised white lettered sidewall and comes in all the right sizes for vintage and modern muscle cars. With a timeless look that perfectly accents vintage and muscle cars, these tires provide sure-footed traction under all conditions and are sure to stand out in the crowd.
Features & Benefits
Performance-enhanced tread design for cutting-edge traction in all conditions.
Raised white lettering adds a classic touch of personality and style.
Large multi-siped tread blocks taper into a rounded shoulder.
Wide solid center rib delivers high speed stability and ensures constant rubber-to-road contact.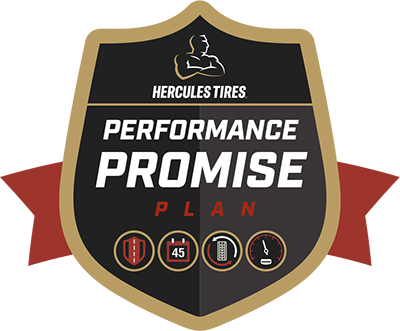 Performance Promise Warranty
50K MILES
Built to deliver 50,000 mi/80,000 km and protected under our Hercules Mileage Coverage Plan.
ROAD HAZARD
Covered by our industry-leading Road Hazard Protection Program, which provides free replacement for up to two years or the first 50% of tread life.
WORKMANSHIP & MATERIALS
If this tire becomes unserviceable due to a flaw in workmanship or materials, we will replace it at no charge during the first 50% of tread life.
| ITEM # | TIRE SIZE | LOAD INDEX | SPEED RATING | LOAD ID | SIDEWALL | UTQG | MIN RIM WIDTH (IN) | MAX RIM WIDTH (IN) | SINGLE MAX LOAD AT COLD INFLATION PRESSURE (LBS@PSI) | DUAL MAX LOAD AT COLD INFLATION PRESSURE (LBS@PSI) | TREAD DEPTH (1/32") | OVERALL WIDTH (IN) | OVERALL DIAMETER (IN) | WEIGHT (LBS) | STUD SIZE | PLY RATING |
| --- | --- | --- | --- | --- | --- | --- | --- | --- | --- | --- | --- | --- | --- | --- | --- | --- |
| 02824 | P215/70R14 | 96 | T | SL | RWL | 440 A B | 5.000000 | 7.000000 | 1554@44 | - | 11.0 | 8.66 | 25.76 | 22.00 | - | - |
| 02826 | P225/70R14 | 98 | T | SL | RWL | 440 A B | 6.000000 | 7.500000 | 1675@44 | - | 11.0 | 8.92 | 26.27 | 24.00 | - | - |
| 02782 | P235/60R14 | 96 | T | SL | RWL | 440 A B | 6.500000 | 8.500000 | 1565@44 | - | 11.0 | 9.11 | 25.06 | 23.00 | - | - |
| ITEM # | TIRE SIZE | LOAD INDEX | SPEED RATING | LOAD ID | SIDEWALL | UTQG | MIN RIM WIDTH (IN) | MAX RIM WIDTH (IN) | SINGLE MAX LOAD AT COLD INFLATION PRESSURE (LBS@PSI) | DUAL MAX LOAD AT COLD INFLATION PRESSURE (LBS@PSI) | TREAD DEPTH (1/32") | OVERALL WIDTH (IN) | OVERALL DIAMETER (IN) | WEIGHT (LBS) | STUD SIZE | PLY RATING |
| --- | --- | --- | --- | --- | --- | --- | --- | --- | --- | --- | --- | --- | --- | --- | --- | --- |
| 02798 | P215/65R15 | 95 | T | SL | RWL | 440 A B | 6.000000 | 7.500000 | 1510@44 | - | 11.0 | 8.38 | 26.00 | 23.00 | - | - |
| 02828 | P215/70R15 | 97 | T | SL | RWL | 440 A B | 5.500000 | 7.000000 | 1620@44 | - | 11.0 | 8.71 | 26.71 | 23.00 | - | - |
| 02830 | P225/70R15 | 100 | T | SL | RWL | 440 A B | 6.000000 | 7.500000 | 1753@44 | - | 11.0 | 9.10 | 27.37 | 26.00 | - | - |
| 02790 | P235/60R15 | 98 | T | SL | RWL | 440 A B | 6.500000 | 8.500000 | 1642@44 | - | 11.0 | 9.15 | 26.11 | 25.00 | - | - |
| 02832 | P235/70R15 | 102 | T | SL | RWL | 440 A B | 6.000000 | 8.000000 | 1896@44 | - | 11.0 | 9.46 | 27.90 | 27.00 | - | - |
| 02792 | P245/60R15 | 100 | T | SL | RWL | 440 A B | 7.000000 | 8.500000 | 1753@44 | - | 11.0 | 9.47 | 26.55 | 26.00 | - | - |
| 02794 | P255/60R15 | 102 | T | SL | RWL | 440 A B | 7.000000 | 9.000000 | 1885@44 | - | 11.0 | 10.24 | 27.01 | 28.00 | - | - |
| 02834 | P255/70R15 | 108 | T | SL | RWL | 440 A B | 6.500000 | 8.500000 | 2183@44 | - | 11.0 | 10.40 | 28.95 | 32.00 | - | - |
| 02796 | P275/60R15 | 107 | T | SL | RWL | 440 A B | 7.500000 | 10.000000 | 2149@44 | - | 11.0 | 10.70 | 28.06 | 30.00 | - | - |
| 02770.2 | P295/50R15 | 105 | S | SL | RWL | 440 A C | 8.000000 | 10.500000 | 2061@35 | - | 11.0 | 12.20 | 26.62 | 35.00 | - | - |