AVALANCHE® XUV
Premium SUV/CUV | Studdable Winter
Handle cold weather conditions like a champ with the premium performance of the all-new Hercules® Avalanche® XUV. Designed specifically for CUVs and SUVs, this exceptional winter tire helps you take on snow, sleet and ice with cool confidence. Plus, it's backed by the Hercules Performance Promise, making this tire a true winter warrior.
Features & Benefits
Snow Grip Technology provides an array of cutting-edge features to help you accelerate faster and stop shorter when it matters most.
The winterized tread pattern, featuring Snow Grabber Grooves, is specifically designed to help trap and hold snow, delivering the critical snow-on-snow traction needed to get you going.
Thin-gauge sipes provide more contact with the road, giving you much needed confidence and greater grip in slippery situations.
The tailored tread compound, developed especially for CUVs and SUVs, provides a more responsive ride, giving you greater peace of mind even in the harshest winter conditions.

Optimized Tread Design
Symmetric tread design reduces uneven wear and prolongs tread life.

Pinned for Studs
Available with the option to add stud pins for enhanced winter traction, even on ice.

Decreased Braking Distance
Tie bars allow for more responsive handling and decreased braking in wet weather conditions.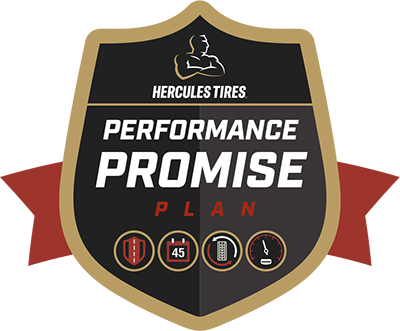 Performance Promise Warranty
ROAD HAZARD
Covered by our industry-leading Road Hazard Protection Program, which provides free replacement for up to two years or the first 50% of tread life.
TRUST OUR RIDE TEST DRIVE
If you are not completely satisfied with these tires, you may return them within 45 days to exchange them for a comparable set of Hercules brand tires.
TRACTION STANDARD
The mountain snowflake symbol means that this tire meets certain requirements for providing traction in harsh conditions.
| ITEM # | TIRE SIZE | LOAD INDEX | SPEED RATING | LOAD ID | SIDEWALL | UTQG | MIN RIM WIDTH (IN) | MAX RIM WIDTH (IN) | SINGLE MAX LOAD AT COLD INFLATION PRESSURE (LBS@PSI) | DUAL MAX LOAD AT COLD INFLATION PRESSURE (LBS@PSI) | TREAD DEPTH (1/32") | OVERALL WIDTH (IN) | OVERALL DIAMETER (IN) | WEIGHT (LBS) | STUD SIZE | PLY RATING |
| --- | --- | --- | --- | --- | --- | --- | --- | --- | --- | --- | --- | --- | --- | --- | --- | --- |
| 03111 | 245/60R18 | 105 | T | SL | BW | | 7.000000 | 8.500000 | 2039@44 | - | 14.0 | 9.80 | 29.57 | 31.04 | 13 | - |
| 03122 | 255/55R18XL | 109 | T | XL | BW | | 7.000000 | 9.000000 | 2271@50 | - | 14.0 | 10.40 | 29.02 | 36.60 | 13 | - |
| 03130 | 265/60R18 | 110 | T | SL | BW | | 7.500000 | 9.500000 | 2337@44 | - | 14.0 | 10.70 | 30.51 | 35.09 | 12 | - |
| 03131 | 265/65R18 | 114 | T | SL | BW | | 7.500000 | 9.500000 | 2601@44 | - | 14.0 | 10.70 | 31.54 | 36.32 | 12 | - |
| ITEM # | TIRE SIZE | LOAD INDEX | SPEED RATING | LOAD ID | SIDEWALL | UTQG | MIN RIM WIDTH (IN) | MAX RIM WIDTH (IN) | SINGLE MAX LOAD AT COLD INFLATION PRESSURE (LBS@PSI) | DUAL MAX LOAD AT COLD INFLATION PRESSURE (LBS@PSI) | TREAD DEPTH (1/32") | OVERALL WIDTH (IN) | OVERALL DIAMETER (IN) | WEIGHT (LBS) | STUD SIZE | PLY RATING |
| --- | --- | --- | --- | --- | --- | --- | --- | --- | --- | --- | --- | --- | --- | --- | --- | --- |
| 03112 | 235/55R19XL | 105 | T | XL | BW | | 6.500000 | 8.500000 | 2039@50 | - | 12.0 | 9.60 | 29.17 | 32.23 | 12 | - |
| 03114 | 245/55R19 | 103 | T | SL | BW | | 7.000000 | 8.500000 | 1929@44 | - | 14.0 | 10.00 | 29.65 | 32.19 | 13 | - |
| 03124 | 255/50R19XL | 107 | H | XL | BW | | 7.000000 | 9.000000 | 2149@50 | - | 14.0 | 10.40 | 29.09 | 34.17 | 13 | - |
| ITEM # | TIRE SIZE | LOAD INDEX | SPEED RATING | LOAD ID | SIDEWALL | UTQG | MIN RIM WIDTH (IN) | MAX RIM WIDTH (IN) | SINGLE MAX LOAD AT COLD INFLATION PRESSURE (LBS@PSI) | DUAL MAX LOAD AT COLD INFLATION PRESSURE (LBS@PSI) | TREAD DEPTH (1/32") | OVERALL WIDTH (IN) | OVERALL DIAMETER (IN) | WEIGHT (LBS) | STUD SIZE | PLY RATING |
| --- | --- | --- | --- | --- | --- | --- | --- | --- | --- | --- | --- | --- | --- | --- | --- | --- |
| 03118 | 245/50R20 | 102 | T | SL | BW | | 7.000000 | 8.500000 | 1874@44 | - | 14.0 | 10.00 | 29.69 | 32.83 | 13 | - |
| 03121 | 255/50R20XL | 109 | H | XL | BW | | 7.000000 | 9.000000 | 2271@50 | - | 14.0 | 10.40 | 30.08 | 36.38 | 13 | - |
| 03120 | 265/50R20 | 107 | H | SL | BW | | 7.500000 | 9.500000 | 2149@44 | - | 14.0 | 10.90 | 30.47 | 36.64 | 13 | - |