TERRA TRAC® AT X-JOURNEY
Premium All-Terrain | All-Season | Crossover
Meet the Terra Trac® AT X-Journey, the all-terrain, all-season tire built to take you from an average day to an anything-but-average getaway. The advanced features and next-gen enhancements engineered into the Terra Trac® AT X-Journey enable a quiet, comfortable ride, enhanced wet traction and increased treadlife all while providing confident handling on dirt and gravel strewn terrains. Best of all, a three peak mountain snowflake (3PMS) certification delivers true peace-of-mind in winter-weather conditions with peak performance in harsh winter weather driving conditions. Plus, two distinct sidewall and shoulder designs of the Terra Trac® AT X-Journey give drivers the ability for cost-effective customization and to show their individuality depending on the day or the mood. So, if you're looking for a tire that can confidently take you from the carpool to the campsite—and look great doing it—let your Journey begin.
Features & Benefits
Dual Sidewall and Shoulder Design (buttress)– gives the driver a cost-effective way for flexible customization that enhances the individuality of their vehicle.
3D Sipes and Silica tread compound – work in concert to provide exceptional responsive handling in wet weather conditions.
Circumferential Grooves– support lateral stability and contributes to wet traction by directing water flow through the tread for hydroplaning resistance.
Sawtooth Edges – enable critical snow-on-snow traction for peace-of-mind in handling harsh winter weather conditions.
3 Peak Mountain Snowflake Certified - meets required performance criteria in snow testing to be considered severe snow service-rated.

Dual Sidewall Design
Equips drivers with a cost-effective customization to enhance the individuality of their vehicle.

All-Terrain Traction
Stone-ejecting ribs in tire's grooves keep tread clear of mud and dirt for increased traction on any surface.

Prepared Severe Weather
Severe snow service rated and certified to offer required performance criteria in snow.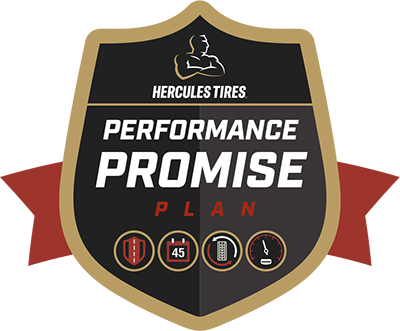 Performance Promise Warranty
60K MILES
Built to deliver 60,000 mi/100,000 km and protected under our Hercules Mileage Coverage Plan
ROAD HAZARD
Covered by our industry-leading Road Hazard Protection Program, which provides free replacement for up to two years or the first 50% of tread life.
TRUST OUR RIDE TEST DRIVE
If you are not completely satisfied with these tires, you may return them within 45 days to exchange them for a comparable set of Hercules brand tires.
TRACTION STANDARD
The mountain snowflake symbol means that this tire meets certain requirements for providing traction in harsh conditions.
| ITEM # | TIRE SIZE | LOAD INDEX | SPEED RATING | LOAD ID | SIDEWALL | UTQG | MIN RIM WIDTH (IN) | MAX RIM WIDTH (IN) | SINGLE MAX LOAD AT COLD INFLATION PRESSURE (LBS@PSI) | DUAL MAX LOAD AT COLD INFLATION PRESSURE (LBS@PSI) | TREAD DEPTH (1/32") | OVERALL WIDTH (IN) | OVERALL DIAMETER (IN) | WEIGHT (LBS) | STUD SIZE | PLY RATING |
| --- | --- | --- | --- | --- | --- | --- | --- | --- | --- | --- | --- | --- | --- | --- | --- | --- |
| 02803 | 235/75R15XL | 109 | T | XL | OWL | 600 A B | 6.000000 | 8.000000 | 2271@50 | - | 14.0 | 9.30 | 28.74 | 33.40 | - | - |
| ITEM # | TIRE SIZE | LOAD INDEX | SPEED RATING | LOAD ID | SIDEWALL | UTQG | MIN RIM WIDTH (IN) | MAX RIM WIDTH (IN) | SINGLE MAX LOAD AT COLD INFLATION PRESSURE (LBS@PSI) | DUAL MAX LOAD AT COLD INFLATION PRESSURE (LBS@PSI) | TREAD DEPTH (1/32") | OVERALL WIDTH (IN) | OVERALL DIAMETER (IN) | WEIGHT (LBS) | STUD SIZE | PLY RATING |
| --- | --- | --- | --- | --- | --- | --- | --- | --- | --- | --- | --- | --- | --- | --- | --- | --- |
| 02252 | 235/70R16 | 106 | T | SL | BW | 600 A B | 6.000000 | 8.000000 | 2094@44 | - | 13.5 | 9.40 | 28.82 | 31.00 | - | - |
| 02557 | 245/75R16 | 111 | T | SL | BW | 600 A B | 6.500000 | 8.000000 | 2403@44 | - | 14.0 | 9.60 | 30.31 | 36.52 | - | - |
| 02584 | 255/70R16 | 111 | T | SL | BW | 600 A B | 6.500000 | 8.500000 | 2403@44 | - | 14.0 | 10.20 | 30.04 | 35.00 | - | - |
| 02594 | 265/70R16 | 112 | T | SL | BW | 600 A B | 7.000000 | 9.000000 | 2469@44 | - | 14.0 | 10.80 | 30.39 | 38.00 | - | - |
| ITEM # | TIRE SIZE | LOAD INDEX | SPEED RATING | LOAD ID | SIDEWALL | UTQG | MIN RIM WIDTH (IN) | MAX RIM WIDTH (IN) | SINGLE MAX LOAD AT COLD INFLATION PRESSURE (LBS@PSI) | DUAL MAX LOAD AT COLD INFLATION PRESSURE (LBS@PSI) | TREAD DEPTH (1/32") | OVERALL WIDTH (IN) | OVERALL DIAMETER (IN) | WEIGHT (LBS) | STUD SIZE | PLY RATING |
| --- | --- | --- | --- | --- | --- | --- | --- | --- | --- | --- | --- | --- | --- | --- | --- | --- |
| 02634 | 225/65R17 | 102 | H | SL | BW | 600 A B | 6.000000 | 8.000000 | 1874@44 | - | 12.5 | 9.20 | 28.62 | 31.06 | - | - |
| 02656 | 235/65R17XL | 108 | H | XL | BW | 600 A B | 6.500000 | 8.500000 | 2205@50 | - | 13.0 | 9.50 | 29.21 | 34.00 | - | - |
| 02636 | 235/75R17 | 109 | T | SL | BW | 600 A B | 6.000000 | 8.000000 | 2271@44 | - | 14.0 | 9.30 | 30.75 | 32.00 | - | - |
| 02658 | 245/65R17XL | 111 | T | XL | BW | 600 A B | 7.000000 | 8.500000 | 2403@50 | - | 13.0 | 9.50 | 29.53 | 33.00 | - | - |
| 02555 | 245/70R17 | 110 | T | SL | BW | 600 A B | 6.500000 | 8.000000 | 2337@44 | - | 13.5 | 9.70 | 30.47 | 34.00 | - | - |
| 02596 | 265/70R17 | 115 | T | SL | BW | 600 A B | 7.000000 | 9.000000 | 2679@44 | - | 14.0 | 10.70 | 31.42 | 40.00 | - | - |
| ITEM # | TIRE SIZE | LOAD INDEX | SPEED RATING | LOAD ID | SIDEWALL | UTQG | MIN RIM WIDTH (IN) | MAX RIM WIDTH (IN) | SINGLE MAX LOAD AT COLD INFLATION PRESSURE (LBS@PSI) | DUAL MAX LOAD AT COLD INFLATION PRESSURE (LBS@PSI) | TREAD DEPTH (1/32") | OVERALL WIDTH (IN) | OVERALL DIAMETER (IN) | WEIGHT (LBS) | STUD SIZE | PLY RATING |
| --- | --- | --- | --- | --- | --- | --- | --- | --- | --- | --- | --- | --- | --- | --- | --- | --- |
| 02650 | 245/60R18 | 105 | H | SL | BW | 600 A B | 7.000000 | 8.500000 | 2039@44 | - | 12.0 | 9.60 | 29.69 | 32.00 | - | - |
| 02652 | 255/70R18 | 113 | T | SL | BW | 600 A B | 6.500000 | 8.500000 | 2535@44 | - | 14.0 | 10.20 | 32.13 | 36.00 | - | - |
| 02588 | 265/60R18 | 110 | T | SL | BW | 600 A B | 7.500000 | 9.500000 | 2337@44 | - | 12.5 | 10.70 | 30.55 | 38.00 | - | - |
| 02592 | 265/65R18 | 114 | T | SL | BW | 600 A B | 7.500000 | 9.500000 | 2601@44 | - | 13.0 | 10.70 | 31.54 | 39.00 | - | - |
| 02598 | 265/70R18 | 116 | T | SL | BW | 600 A B | 7.000000 | 9.000000 | 2756@44 | - | 14.0 | 10.70 | 32.64 | 41.00 | - | - |
| 02628 | 275/65R18 | 116 | T | SL | BW | 600 A B | 7.500000 | 9.500000 | 2756@44 | - | 13.0 | 11.00 | 32.13 | 41.00 | - | - |
| ITEM # | TIRE SIZE | LOAD INDEX | SPEED RATING | LOAD ID | SIDEWALL | UTQG | MIN RIM WIDTH (IN) | MAX RIM WIDTH (IN) | SINGLE MAX LOAD AT COLD INFLATION PRESSURE (LBS@PSI) | DUAL MAX LOAD AT COLD INFLATION PRESSURE (LBS@PSI) | TREAD DEPTH (1/32") | OVERALL WIDTH (IN) | OVERALL DIAMETER (IN) | WEIGHT (LBS) | STUD SIZE | PLY RATING |
| --- | --- | --- | --- | --- | --- | --- | --- | --- | --- | --- | --- | --- | --- | --- | --- | --- |
| 02664 | 265/50R20XL | 111 | T | XL | BW | 600 A B | 7.500000 | 9.500000 | 2403@50 | - | 12.5 | 10.60 | 30.51 | 46.00 | - | - |
| 02660 | 275/55R20XL | 117 | T | XL | BW | 600 A B | 7.500000 | 9.500000 | 2833@50 | - | 12.5 | 10.90 | 31.93 | 43.00 | - | - |
| 02624 | 275/60R20 | 115 | T | SL | BW | 600 A B | 7.500000 | 9.500000 | 2679@44 | - | 12.5 | 10.90 | 33.03 | 42.00 | - | - |