TERRA TRAC® M/T
Premium Mud Terrain | All-Season
The Hercules Terra Trac M/T – Extreme Traction on Every Terrain. With its distinct, Hi/Lo tread design and increased siping, the Terra Trac M/T delivers extreme terrain traction when off road, and better handling and a quieter ride on the road. It features scalloped tread blocks to easily scoop away mud and boasts an aggressive camouflage sidewall design guaranteed to turn heads. This modern mud tire is perfect for the weekend warrior just waiting to dig in when the week—and the road—ends.
Features & Benefits
Lower void-to-rubber ratio in the middle of the tread acts like a center rib to promote better handling and a quieter ride.
High void-to-rubber ratio on the outside of the tire delivers extreme off-road traction.
Aggressive open shoulder design features scalloped tread blocks for greater traction and mobility on soft surfaces.
Deep siping improves wet traction and stud pins offer added winter traction and control.

Extreme All-Terrain Traction
With 80% more siping than its predecessor, this tire's siping allows for superior on- road wet traction throughout the life of the tire, while also ensuring a better worn appearance.
Camouflage Sidewall
Unique design gives The Terra Trac M/T an aggressive, head-turning appearance.

Enhanced Winter Traction and Control
Stud pins place in tread for enhanced winter traction and control.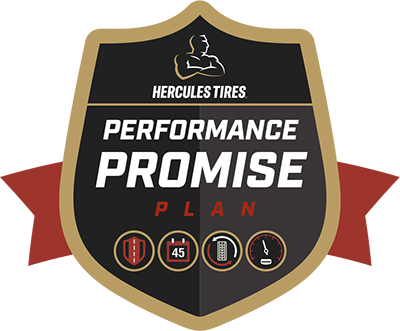 Performance Promise Warranty
ROAD HAZARD
Covered by our industry-leading Road Hazard Protection Program, which provides free replacement for up to two years or the first 50% of tread life.
TRUST OUR RIDE TEST DRIVE
If you are not completely satisfied with these tires, you may return them within 45 days to exchange them for a comparable set of Hercules brand tires.
WORKMANSHIP & MATERIALS
If this tire becomes unserviceable due to a flaw in workmanship or materials, we will replace it at no charge during the first 50% of tread life.
| ITEM # | TIRE SIZE | LOAD INDEX | SPEED RATING | LOAD ID | SIDEWALL | UTQG | MIN RIM WIDTH (IN) | MAX RIM WIDTH (IN) | SINGLE MAX LOAD AT COLD INFLATION PRESSURE (LBS@PSI) | DUAL MAX LOAD AT COLD INFLATION PRESSURE (LBS@PSI) | TREAD DEPTH (1/32") | OVERALL WIDTH (IN) | OVERALL DIAMETER (IN) | WEIGHT (LBS) | STUD SIZE | PLY RATING |
| --- | --- | --- | --- | --- | --- | --- | --- | --- | --- | --- | --- | --- | --- | --- | --- | --- |
| 08010.1 | 31X10.50R15LT/6 | 109 | Q | C | OWL | | 7.00 | 9.00 | 2270@50 | N/A | 19.0 | 10.90 | 30.63 | 44.44 | 15 | - |
| 08020.2 | 33X12.50R15LT/6 | 108 | Q | C | OWL | | 8.50 | 11.00 | 2205@35 | N/A | 20.0 | 12.10 | 32.83 | 55.10 | 17 | - |
| 08030.1 | 35X12.50R15LT/6 | 113 | Q | C | OWL | | 8.50 | 11.00 | 2535@35 | N/A | 20.0 | 12.50 | 34.72 | 60.72 | 17 | - |
| ITEM # | TIRE SIZE | LOAD INDEX | SPEED RATING | LOAD ID | SIDEWALL | UTQG | MIN RIM WIDTH (IN) | MAX RIM WIDTH (IN) | SINGLE MAX LOAD AT COLD INFLATION PRESSURE (LBS@PSI) | DUAL MAX LOAD AT COLD INFLATION PRESSURE (LBS@PSI) | TREAD DEPTH (1/32") | OVERALL WIDTH (IN) | OVERALL DIAMETER (IN) | WEIGHT (LBS) | STUD SIZE | PLY RATING |
| --- | --- | --- | --- | --- | --- | --- | --- | --- | --- | --- | --- | --- | --- | --- | --- | --- |
| 08060.1 | LT235/85R16/10 | 120/116 | Q | E | BW | | 6.00 | 7.50 | 3042@80 | 2,778@80 | 18.0 | 9.70 | 31.77 | 45.76 | 15 | - |
| 08070.1 | LT245/75R16/10 | 120/116 | Q | E | BW | | 6.50 | 8.00 | 3042@80 | 2778@80 | 18.0 | 9.40 | 30.59 | 41.89 | 15 | - |
| 08090 | LT265/75R16/10 | 123/120 | Q | E | OWL | | 7.00 | 8.00 | 3415@80 | 3085@80 | 18.5 | 10.10 | 31.73 | 48.07 | 15 | - |
| 08130 | LT285/75R16/10 | 126/123 | Q | E | OWL | | 7.50 | 9.00 | 3750@80 | 3415@80 | 18.5 | 11.30 | 32.83 | 55.77 | 15 | - |
| 08180 | LT305/70R16/10 | 124/121 | Q | E | OWL | | 8.00 | 9.50 | 3525@65 | 3195@65 | 19.0 | 12.00 | 32.95 | 55.88 | 15 | - |
| 08210 | LT315/75R16/10 | 127/124 | Q | E | OWL | | 8.00 | 11.00 | 3860@65 | 3525@65 | 19.5 | 11.90 | 34.65 | 62.48 | 17 | - |
| ITEM # | TIRE SIZE | LOAD INDEX | SPEED RATING | LOAD ID | SIDEWALL | UTQG | MIN RIM WIDTH (IN) | MAX RIM WIDTH (IN) | SINGLE MAX LOAD AT COLD INFLATION PRESSURE (LBS@PSI) | DUAL MAX LOAD AT COLD INFLATION PRESSURE (LBS@PSI) | TREAD DEPTH (1/32") | OVERALL WIDTH (IN) | OVERALL DIAMETER (IN) | WEIGHT (LBS) | STUD SIZE | PLY RATING |
| --- | --- | --- | --- | --- | --- | --- | --- | --- | --- | --- | --- | --- | --- | --- | --- | --- |
| 08050.1 | 37X12.50R17LT/8 | 124 | P | D | BW | | 8.50 | 11.00 | 3525@50 | N/A | 21.0 | 13.10 | 36.69 | 69.08 | 17 | - |
| 08080.1 | LT265/70R17/10 | 121/118 | Q | E | OWL | | 7.00 | 8.50 | 3195@80 | 2910@80 | 18.5 | 10.80 | 31.73 | 50.20 | 15 | - |
| 08120 | LT285/70R17/10 | 121/118 | Q | E | OWL | | 7.50 | 9.00 | 3195@80 | 2910@80 | 18.5 | 11.50 | 32.91 | 56.06 | 15 | - |
| 08150 | LT295/70R17/10 | 121/118 | Q | E | OWL | | 7.50 | 10.00 | 3195@80 | 2910@80 | 19.5 | 11.80 | 33.46 | 58.96 | 17 | - |
| 08170 | LT305/65R17/10 | 121/118 | Q | E | OWL | | 8.50 | 11.00 | 3195@65 | 2910@65 | 19.5 | 12.30 | 32.76 | 56.98 | 17 | - |
| 08200.1 | LT315/70R17/8 | 121/118 | Q | D | OWL | | 8.00 | 11.00 | 3195@50 | 2910@50 | 19.5 | 12.80 | 34.49 | 62.48 | 17 | - |
| ITEM # | TIRE SIZE | LOAD INDEX | SPEED RATING | LOAD ID | SIDEWALL | UTQG | MIN RIM WIDTH (IN) | MAX RIM WIDTH (IN) | SINGLE MAX LOAD AT COLD INFLATION PRESSURE (LBS@PSI) | DUAL MAX LOAD AT COLD INFLATION PRESSURE (LBS@PSI) | TREAD DEPTH (1/32") | OVERALL WIDTH (IN) | OVERALL DIAMETER (IN) | WEIGHT (LBS) | STUD SIZE | PLY RATING |
| --- | --- | --- | --- | --- | --- | --- | --- | --- | --- | --- | --- | --- | --- | --- | --- | --- |
| 08100 | LT275/65R18/10 | 123/120 | Q | E | OWL | | 7.50 | 9.50 | 3415@80 | 3085@80 | 19.0 | 11.00 | 32.20 | 54.00 | 15 | - |
| 08110 | LT275/70R18/10 | 125/122 | Q | E | OWL | | 7.00 | 8.50 | 3640@80 | 3305@80 | 19.0 | 11.00 | 33.31 | 55.00 | 15 | - |
| ITEM # | TIRE SIZE | LOAD INDEX | SPEED RATING | LOAD ID | SIDEWALL | UTQG | MIN RIM WIDTH (IN) | MAX RIM WIDTH (IN) | SINGLE MAX LOAD AT COLD INFLATION PRESSURE (LBS@PSI) | DUAL MAX LOAD AT COLD INFLATION PRESSURE (LBS@PSI) | TREAD DEPTH (1/32") | OVERALL WIDTH (IN) | OVERALL DIAMETER (IN) | WEIGHT (LBS) | STUD SIZE | PLY RATING |
| --- | --- | --- | --- | --- | --- | --- | --- | --- | --- | --- | --- | --- | --- | --- | --- | --- |
| 08040.1 | 35X12.50R20LT/10 | 121 | Q | E | BW | | 8.50 | 11.00 | 3195@65 | N/A | 20.0 | 12.50 | 34.69 | 64.46 | 17 | - |
| 08015.1 | 37X12.50R20LT/10 | 126 | P | E | BW | | 8.50 | 11.00 | 3750@65 | N/A | 21.0 | 12.50 | 36.54 | 71.06 | 17 | - |
| 08013.1 | 37X13.50R20LT/10 | 127 | Q | E | BW | | 8.50 | 11.00 | 3860@65 | N/A | 21.0 | 13.60 | 36.54 | 73.92 | 17 | - |
| 08140 | LT295/55R20/10 | 123/120 | P | E | BW | | 8.50 | 10.00 | 3415@80 | 3085@80 | 16.0 | 12.20 | 32.99 | 58.20 | 17 | - |
| 08160 | LT305/55R20/10 | 121/118 | Q | E | BW | | 8.50 | 11.00 | 3195@65 | 2910@65 | 19.5 | 12.50 | 33.31 | 61.60 | 17 | - |