STRONG GUARD® ST
Radial-Ply | Specialty Trailer
The Hercules Strong Guard ST Radial Trailer Tire - Tow With Confidence and Reliability. This radial specialty trailer tire is built tough for confident towing no matter where the adventure takes you. All sizes are constructed with high tensile steel belts reinforced with 2 nylon cap plies providing durability and dependability when towing heavy loads.
Features & Benefits
Optimized foot print leads to even pressure distribution for longer tread life and even wear under heavy loads.
Strong rib design features four (4) circumferential grooves coupled with a strong center rib allows for efficient water channeling and straight-line tracking.
COOLCOURSE™ technology temperature control system reduces heat generation to enhance performance at high speeds extending tire life.
Curb guard provides extra sidewall protection for all the unexpected tight turns.

Build for Confident Towing
Optimized for even pressure distribution, longer tread life and even wear under heavy loads

Increased Speed Rating
CoolCourseTM Technology temperature control system enhances high-speed performance and extends tire life.

Sidewall Protection
Curb guard provides extra protection for tight turns.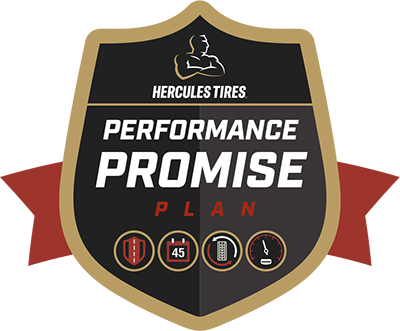 Performance Promise Warranty
60 MONTH
Backed by a 60-month Limited Protection Policy covering defects in workmanship and materials.
WORKMANSHIP & MATERIALS
If this tire becomes unserviceable due to a flaw in workmanship or materials, we will replace it at no charge during the first 50% of tread life.
ROAD HAZARD
Covered by our industry-leading Road Hazard Protection Program, which provides free replacement for up to two years or the first 2/32nds of tread life.
| ITEM # | TIRE SIZE | LOAD INDEX | SPEED RATING | LOAD ID | SIDEWALL | UTQG | MIN RIM WIDTH (IN) | MAX RIM WIDTH (IN) | SINGLE MAX LOAD AT COLD INFLATION PRESSURE (LBS@PSI) | DUAL MAX LOAD AT COLD INFLATION PRESSURE (LBS@PSI) | TREAD DEPTH (1/32") | OVERALL WIDTH (IN) | OVERALL DIAMETER (IN) | WEIGHT (LBS) | STUD SIZE | PLY RATING |
| --- | --- | --- | --- | --- | --- | --- | --- | --- | --- | --- | --- | --- | --- | --- | --- | --- |
| 98492 | ST175/80R13/6 | 91/87 | N | C | BW | | 4.50 | 5.50 | 1360@50 | 1200@50 | 9.0 | 7.17 | 24.02 | 18.60 | - | - |
| ITEM # | TIRE SIZE | LOAD INDEX | SPEED RATING | LOAD ID | SIDEWALL | UTQG | MIN RIM WIDTH (IN) | MAX RIM WIDTH (IN) | SINGLE MAX LOAD AT COLD INFLATION PRESSURE (LBS@PSI) | DUAL MAX LOAD AT COLD INFLATION PRESSURE (LBS@PSI) | TREAD DEPTH (1/32") | OVERALL WIDTH (IN) | OVERALL DIAMETER (IN) | WEIGHT (LBS) | STUD SIZE | PLY RATING |
| --- | --- | --- | --- | --- | --- | --- | --- | --- | --- | --- | --- | --- | --- | --- | --- | --- |
| 98493 | ST205/75R14/8 | 105/101 | N | D | BW | | 5.00 | 7.00 | 2040@65 | 1820@65 | 9.5 | 7.99 | 25.98 | 24.30 | - | - |
| 98494 | ST215/75R14/6 | 102/98 | N | C | BW | | 5.50 | 7.00 | 1870@50 | 1650@50 | 9.5 | 8.43 | 26.69 | 24.50 | - | - |
| ITEM # | TIRE SIZE | LOAD INDEX | SPEED RATING | LOAD ID | SIDEWALL | UTQG | MIN RIM WIDTH (IN) | MAX RIM WIDTH (IN) | SINGLE MAX LOAD AT COLD INFLATION PRESSURE (LBS@PSI) | DUAL MAX LOAD AT COLD INFLATION PRESSURE (LBS@PSI) | TREAD DEPTH (1/32") | OVERALL WIDTH (IN) | OVERALL DIAMETER (IN) | WEIGHT (LBS) | STUD SIZE | PLY RATING |
| --- | --- | --- | --- | --- | --- | --- | --- | --- | --- | --- | --- | --- | --- | --- | --- | --- |
| 98495 | ST205/75R15/8 | 107/102 | N | D | BW | | 5.00 | 6.50 | 2150@65 | 1870@65 | 9.5 | 7.99 | 26.94 | 26.10 | - | - |
| 98496 | ST225/75R15/10 | 117/112 | N | E | BW | | 6.00 | 7.00 | 2830@80 | 2470@80 | 9.5 | 8.98 | 28.07 | 30.90 | - | - |
| ITEM # | TIRE SIZE | LOAD INDEX | SPEED RATING | LOAD ID | SIDEWALL | UTQG | MIN RIM WIDTH (IN) | MAX RIM WIDTH (IN) | SINGLE MAX LOAD AT COLD INFLATION PRESSURE (LBS@PSI) | DUAL MAX LOAD AT COLD INFLATION PRESSURE (LBS@PSI) | TREAD DEPTH (1/32") | OVERALL WIDTH (IN) | OVERALL DIAMETER (IN) | WEIGHT (LBS) | STUD SIZE | PLY RATING |
| --- | --- | --- | --- | --- | --- | --- | --- | --- | --- | --- | --- | --- | --- | --- | --- | --- |
| 98497 | ST235/80R16/10 | 124/120 | N | E | BW | | 6.00 | 7.50 | 3520@80 | 3080@80 | 9.5 | 8.94 | 30.67 | 38.70 | - | - |
| 98498 | ST235/85R16/12 | 128/124 | N | F | BW | | 6.00 | 7.50 | 3960@95 | 3520@95 | 9.5 | 9.13 | 31.67 | 44.70 | - | - |