ROADTOUR® 455 SPORT
Performance Touring | All-Season
The Hercules Roadtour 455 Sport - Premier Performance Inside and Out. Outfitted with a modern, aggressive tread design, the Roadtour 455 Sport projects a level of confidence perfect for performance-oriented vehicles that require V-rated tires. The Roadtour 455 Sport is built using an all-season compound for dependable performance all year long, and its wide profile shape optimizes traction and tread life. The Roadtour name is synonymous with delivering drivers an excellent ride, and the 455 Sport adds to the legacy with a tire that blends enhanced features with efficient design to create the perfect fit for today's sportier vehicles.
Features & Benefits
Asymmetric tread design enhances traction and cornering.
Updated profile design optimizes surface contact with the road for increased traction and tread life.
Strategically placed full depth siping creates a biting grip and greater stability.
Solid center rib delivers crisp handling and driver comfort.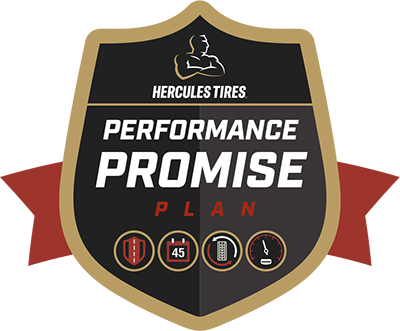 Performance Promise Warranty
50K MILES
Built to deliver 50,000 mi/80,000 km and protected under our Hercules Mileage Coverage Plan.
ROAD HAZARD
Covered by our industry-leading Road Hazard Protection Program, which provides free replacement for up to two years or the first 50% of tread life.
TRUST OUR RIDE TEST DRIVE
If you are not completely satisfied with these tires, you may return them within 45 days to exchange them for a comparable set of Hercules brand tires.
WORKMANSHIP & MATERIALS
If this tire becomes unserviceable due to a flaw in workmanship or materials, we will replace it at no charge during the first 50% of tread life.
| ITEM # | TIRE SIZE | LOAD INDEX | SPEED RATING | LOAD ID | SIDEWALL | UTQG | MIN RIM WIDTH (IN) | MAX RIM WIDTH (IN) | SINGLE MAX LOAD AT COLD INFLATION PRESSURE (LBS@PSI) | DUAL MAX LOAD AT COLD INFLATION PRESSURE (LBS@PSI) | TREAD DEPTH (1/32") | OVERALL WIDTH (IN) | OVERALL DIAMETER (IN) | WEIGHT (LBS) | STUD SIZE | PLY RATING |
| --- | --- | --- | --- | --- | --- | --- | --- | --- | --- | --- | --- | --- | --- | --- | --- | --- |
| 05180 | 215/50R17XL | 95 | V | XL | BW | 520 A A | 6.00 | 7.50 | 1521@50 | - | 9.0 | 8.90 | 25.51 | 23.28 | - | - |
| 05220 | 225/50R17 | 94 | V | SL | BW | 520 A A | 6.00 | 8.00 | 1477@44 | - | 9.0 | 9.20 | 25.91 | 22.88 | - | - |
| 05230 | 225/55R17 | 97 | V | SL | BW | 520 A A | 6.00 | 8.00 | 1609@44 | - | 9.0 | 9.20 | 26.77 | 25.96 | - | - |
| ITEM # | TIRE SIZE | LOAD INDEX | SPEED RATING | LOAD ID | SIDEWALL | UTQG | MIN RIM WIDTH (IN) | MAX RIM WIDTH (IN) | SINGLE MAX LOAD AT COLD INFLATION PRESSURE (LBS@PSI) | DUAL MAX LOAD AT COLD INFLATION PRESSURE (LBS@PSI) | TREAD DEPTH (1/32") | OVERALL WIDTH (IN) | OVERALL DIAMETER (IN) | WEIGHT (LBS) | STUD SIZE | PLY RATING |
| --- | --- | --- | --- | --- | --- | --- | --- | --- | --- | --- | --- | --- | --- | --- | --- | --- |
| 05198 | 225/45R18XL | 95 | V | XL | BW | 520 A A | 7.00 | 8.50 | 1521@50 | - | 9.0 | 8.90 | 25.94 | 22.26 | - | - |
| 05213 | 235/45R18 | 94 | V | SL | BW | 520 A A | 7.50 | 9.00 | 1477@44 | - | 9.0 | 9.30 | 26.34 | 26.80 | - | - |
| 05270 | 235/50R18 | 97 | V | SL | BW | 520 A A | 6.50 | 8.50 | 1609@44 | - | 9.0 | 9.60 | 27.28 | 28.73 | - | - |