Performance Promise Plan Warranty
Providing Pure Peace of Mind
Whatever you drive, and wherever you're going, you can trust Hercules tires to get you there safely and securely. For years, we have proudly provided our customers with the promise of superior protection, so they can always drive with confidence. And we put our promise in writing.
It's simply an extension of the way we've always done business, putting our customers first and placing fairness and integrity above all. Because we understand what's riding on your tires. And we want you to know you can count on Hercules to keep it protected.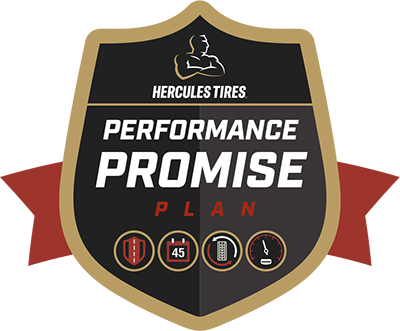 Road Hazard Protection
Even the best roads can have hazards lurking just around the bend. Pesky potholes, nails, glass and other debris can really be unkind to your tires. At Hercules, we help you fight back with a groundbreaking Road Hazard Protection Program that offers FREE REPLACEMENT for any Hercules brand passenger and light truck tire for two years or the first 50% of tread life. Strong Guard ST – free replacement for two years or the first 2/32nds of treadwear.
"Trust Our Ride" 45-Day Trial
If you are not completely satisfied with these tires, you may return them within 45 days to exchange them for a comparable set of Hercules brand tires.
Workmanship & Materials
At Hercules, we know our customers expect their replacement tires to come with the strength and satisfaction that our name represents. So when a rare flaw pops up, we're there, ready to make it right. We'll replace any Hercules brand passenger or light truck tire that becomes unserviceable due to defects in workmanship and materials at NO CHARGE during the first 50% of tread life.
Mileage Coverage Plan
Whether it's around the corner, down the road or clear across the country, life gives you lots of places to go. You want to trust your tires to take you where you need to be…when you need to be there. That's why we back many of our Hercules brand passenger and light truck tires with our Hercules Mileage Coverage Plan—up to an incredible 70,000 miles on some tires.